2023 Anorak design

Donate to The WWUH Endowed Scholarship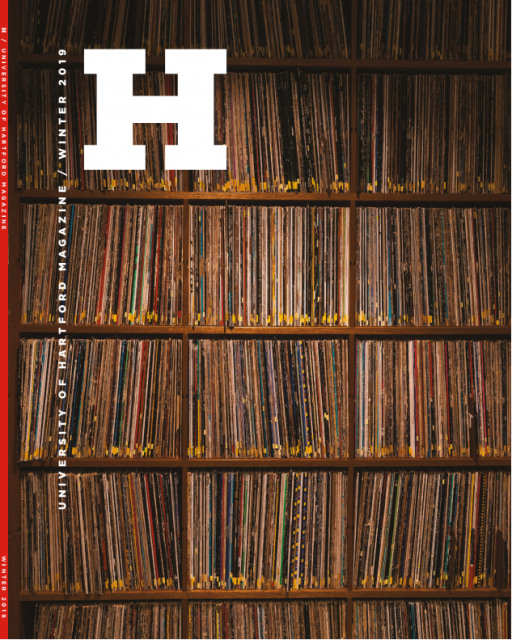 When the University of Hartford was incorporated just over 50 years ago by business and community leaders, they envisioned a center of education and culture for Greater Hartford. Read more...
Persons with disabilities who wish to access the WWUH Public File may contact John Ramsey at: ramsey@hartford.edu
Caterwaul - Ed McKeon
Click this...
» Ed's Bloggin' at Caterwauled
» Ed's Favorite Albums of the Last 20 Years
The following is a recollection of our Folk Music Director
Ed McKeon's experiences at WWUH over the last 20+ years: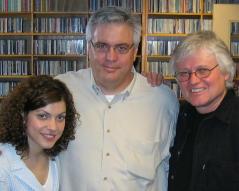 Carrie Rodriguez, Ed, and Chip Taylor
'FOLK STUFF' In WWUH History
When I came to the station for training in 1984, every "FM on Toast" show with the exception of Wednesday was Folk Music. Wednesday's show was rock and called "Folk Off." I trained just behind Ed Savage, and when the Tuesday show came open, Ed turned it into a Celtic show (he was followed by Maureen Brennan and then Steve Dieterich). The Wednesday show opened in 1985 and I stepped in. I don't think the rock show had many listeners, because I didn't get many complaints when it became a folk show. In fact I got a lot of calls from listeners happy to hear that folk music was being played every weekday. Then I got a lot of calls from listeners complaining that what I was playing wasn't folk. I played a lot of folk-rock, electric protest music (Billy Bragg, in particular), and raucous Celtic music. I also played a bunch of blues, zydeco, Cajun and world music. Edgy stuff for folk listeners! Obviously all those genres are now pretty well represented on other shows. I named my show "Fringe Folk" so I didn't have to defend myself against the "Folk Police".
Bill Domler brought me to the station. I used to buy some of the wildest folk albums at his shop on New Britain Avenue in Elmwood. I first visited his shop to find a copy of a song I heard while driving west on I-84. I can remember the precise location, just past West Farms Mall, and he played Kate Wolf singing Give Yourself to Love, followed by Andrew Calhoun singing The Gates of Love. I thought, "What's this?" And I was hooked. We chatted frequently at his shop. Then I let him borrow some albums by Billy Bragg, The Pogues, the Men They Couldn't Hang, and others. I had bought these albums at Capitol Records where I first met Susan Mullis, Mark Santini, Michael Clare, Mark Delorenzo, and Andy Taylor. The music I was listening to didn't appeal to Bill but he asked me to appear as a guest on his show to play some of them, and to talk about them, and I did. Then he convinced me to go through training. He didn't have to twist my arm.
Bill started his show because he listened to Susan Forbes Hansen on WHUS and WFCR, and figured he could do that. His was the first non-rock show in the "FM on Toast" slot (though not the first folk show on WWUH - there had been folk many years before, as old program guides will attest). As he always told me, he didn't know a lot about folk music when he started the Sounding Board Coffeehouse in Hartford, and then the radio show, but he learned as he went along. He loved really traditional folk music, and didn't care too much for the progressive stuff. But occasionally his ears would settle on a newcomer (Nanci Griffith, for example) and he would play the album relentlessly. He was also a big fan of old, old jazz (The New Black Eagles, The Cheap Suit Serenaders) and those of Sir Harry Lauder, a Scottish balladeer from early in the century. Bill owned some amazing audiophile stereo equipment, but the irony was that he was deaf in one ear. For the longest time, he was an analog defender and wouldn't play compact discs.
He left the Sounding Board, and started the Roaring Brook Concert series, and then the Print Shop Concert Series in his shop when it was on South Whitney. Though he was the "Speediest Printer in Town", his little shop within a shop was called "Music Vale". Bill was also a relentless concert taper. I wish I knew where his collection of cassettes, DATs, and mini-CDs are because he taped (including one great Silly Wizard show which has reached legendary status -- Bill played it often on the air) nearly every concert he produced, or helped produce, and he likely had some amazing early performances by some great musicians. If we could put our hands on them, we'd have a treasure trove.
Prior to, and certainly after the WWUH Folk Next Door concert series, I produced several concerts at the station. To be honest my recollection of who performed is pretty hazy. I was usually going for the unknown artist. Most of the files I had concerning those shows have been lost. I do remember Dar Williams, The Nields, John Gorka, Eileen Weiss, Dick Gaughan, Rory McLeod, Richard Shindell, The Five Chinese Brothers, Susan McKeown, Chanting House, Eddy Lawrence, Kila, and…I think the station has recordings of some of these performances.
Bill produced one big show at Lincoln Theater with Nanci Griffith and Eddy Lawrence opening. He also produced "Nowell Sing We Clear" as a Christmas show at least twice in the Wilde Auditorium at the University of Hartford.
John Chapin produced a number of shows at the Wilde and Lincoln Theater in his "Lloyds Series", including Alison Krauss & Union Station, and "A Winter's Night" tour with Cheryl Wheeler, Patty Larkin, John Gorka and Cliff Eberhardt.
The Folk Next Door (FND) concert series was an idea that emerged in a phone conversation between Bruce Pratt and myself. We wanted to do something that would bring money to WWUH, expose our listening audience to new artists, and create a permanent record of the event. CDs were pretty new, especially in the folk world at that point, and we wanted to make one. So we came up with the scheme to charge a good ticket price, give each audience member a copy of the CD with a ticket purchase, ask the artists to perform for free, and use the funds from the concert to press the CD (and cassettes, of course). The rest is history and, I think, documented in the Folk Next Door history I wrote at one point.
The second FND was a near disaster, as you likely remember. The free daytime/outdoor show was scuttled and brought indoors (due to rain). It put us hours behind, and brought noisy children into the Wilde, which made taping nearly impossible. I remember The Nields, Hugh Blumenfeld, and Bruce Pratt holding an impromptu concert under the eaves of the Harry Gray Center while we set up inside. Folk Next Door concerts, especially at the beginning, were always long, but the second one was way behind schedule. I had band members from Last Fair Deal screaming at me, and the Five Chinese Brothers, who had rented a car to drive down from NYC, left at 2 a.m. without having performed (we later mended fences). I remember getting out of there sometime around 3 a.m., and as I remember my son Colin, and (John Ramsey's) twins, had used the elevator so much it broke down. The star that emerged from that concert was Dar Williams. When the selection committee met to listen to prospects her tape was rejected, but in my capacity as FND executive, I put her back into the show. She was the first performer in the evening ticketed session, and she floored the audience.
The Folk Next Door side project, "At Home For the Holidays with the Folk Next Door" was a successful concert we held in a hall at the Village For Families and Children, who also were beneficiaries of the concert. We convinced the Nields and Dar Williams to record their holiday songs in advance to use as promos on the air prior to the event. Nerissa Nields was a quick writer and she wrote "Merry Christmas, Mr. Jones," but when she asked Dar to write a song, Dar was aghast. She wrote her songs methodically over the course of several weeks, and she didn't think she'd come up with something in a matter of days. She wrote, "The Christians and the Pagans" which has become a Dar Williams classic. The original version has one slightly different verse. The "At Home For the Holidays with the Folk Next Door" CD is still very popular with listeners during the Holidays.
The Nields have always been friends of the station. As you know, Katryna had a show for a while. They visited my show frequently when they lived in Windsor. And Nerissa wrote, "Ash Wednesday" for an Ash Wednesday appearance after I complained that as a Cajun and zydeco fan, it was often difficult to do a show the day after Mardi Gras. Nerissa wrote the song while at a conference, and Katryna didn't have time to learn the hell-bent lyrics, so Nerrissa performed it on the show. The Nields, Hugh Blumenfeld, Stan Sullivan, Dar Williams, Steve Nystrup, Mad Agnes and others appeared live on various "WWUH Marathon" fundraiser shows, which often ended with 'Hootenannies'. Hugh also wrote a song about "Wednesday FM on Toast", and often composed impromptu songs for supporters who pledge to the station. I still recall one called Rockadundee Road based on an address on a pledge form.
For me, the highlights of the show have been the interviews with musicians that I've conducted, either at shows or during visits to the station. Here's a partial list, from memory. Billy Bragg, Michelle Shocked, The Horse Flies, Dewey Balfa, Leon Rosselson, Eliza Gilkyson, The Pogues, Shawn Colvin, Patty Larkin, Robbie Fulks, Dar Williams, the Nields, Mad Agnes, Madwoman in the Attic, Rod Picott, Eddie Reader, Peter Case, Richard Thompson, Dave Moore, David Mallett, Mojo Nixon, Michael Doucet, Steve Riley, and The Oyster Band.
Very occasionally I've played some on-air jokes, often around April 1st. For instance, I'd pretend that the show is pre-recorded at an earlier date, usually from several years prior. The joke is that I insert current songs and concert listings with ancient ones. I do a fake announcement, something like: "…this is a rebroadcast of a Caterwaul show recorded July 14, 1988". Most listeners don't catch on. The phones go silent, and later in the week I bump into people who ask me where I was on that day.
I've also used an alter ego, and an alter-voice. I disguise my voice as a gravelly, Southern slur and call myself Tom Flighs (I haven't done this one in awhile). I sound like a cross between Lightnin' Hopkins and Tom Waits. I used to do this for a very practical reason - I used this voice when I was filling in for another folk show, having already done mine that week, and I didn't want my bosses or co-workers to know that I was coming in late because I was doing another show at the radio station. One morning when I was using this voice the studio line rang, and on the other end was Joe Hoke, who at that time was president of Mintz & Hoke Advertising, Connecticut's largest agency. He wanted to hire Tom Flighs to do some voiceover work for a commercial his agency was preparing. I tried to convince Joe that Tom Flighs was really me, and that I couldn't do the voice for a commercial, because Tom Waits had just successfully sued someone who had done an imitation of his voice on a national commercial.
My most successful sound effect gag was one some of you may remember. During one horrendous flu season I was talking, on-air, about how the foam microphone windscreen probably was full of spittle that had flown from dozens of announcers' mouths and that, as such, it was probably the repository for some really potent bacteria. So I told the listeners I was going to wring out the foam windscreen into the wastebasket, I pulled it off, on-air, and then slowly poured a cup of water into one of the metal wastebaskets. It sounded gross…as many listeners called to tell me!
Finally, during one "WWUH Marathon" a few years back, I knew I was going to be in Omaha, Nebraska during my day for fundraising. I convinced Steve Theaker to sub for me, but I left almost three hours of Marathon programming behind on CD. Steve did a great job, answering questions that I asked on the recording like: "What's the total now?" With some basic cue sheets, he handled them all with aplomb. As I recall, we raised a record amount and no one knew I wasn't there.
I also used to do a feature called "Keeping Up with the Smiths," based on the group The Smiths (I used the song "Heaven Knows I'm Miserable Now") as a theme. Each week I'd play a piece of a cut from an alterative-rock group with an odd name, so parents would know what their kids were listening to. After about a year I abandoned that feature by breaking an actual LP record on the air.
One other feature of the show has been the Visit to the Library, a short, three-minute book review feature. My first guest was Mike Donohue, an avid reader and President of the Boothe-Dimmock Library in Coventry. Then later with Andrea Gaines, aka "The Biblio Babe." ~ E. McKeon
+