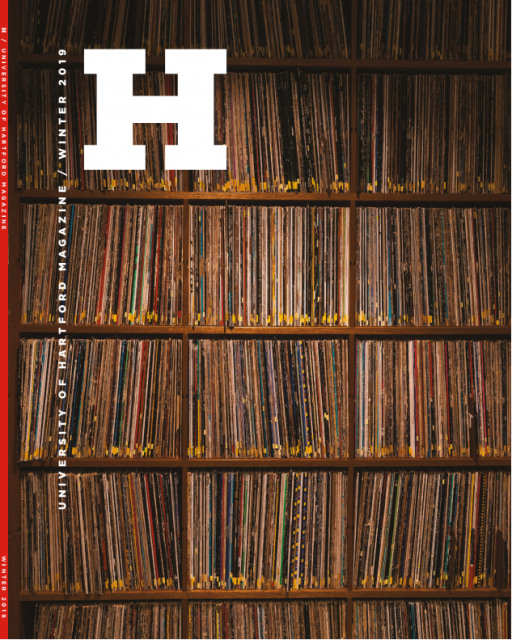 When the University of Hartford was incorporated just over 50 years ago by business and community leaders, they envisioned a center of education and culture for Greater Hartford. Read more...
Persons with disabilities who wish to access the WWUH Public File may contact John Ramsey at: ramsey@hartford.edu
Sunday Afternoon at the Opera
by administrator on Tue, 08/24/2010 - 8:34pm
Sunday NOVEMBER 2ND: Today in the traditional Roman Catholic Church calendar is All Souls' Day, following All Saints' Day and All Hallows' Eve. The souls of the dear departed are honored on this sacred feast and a Requiem Mass is called for. I have two musical requiems to offer you. Johannes Brahms' Ein Dentsches Requiem (1868) is his single longest composition. It seems he wrote it with his recently deceased mother in mind, and both the German language text, drawn from passages in the Lutheran Bible, and his music were intended to comfort the living who grieve over those they have lost. This is not a liturgical composition; in a broader sense it is Brahms' musical meditation upon death, incorporating choral music he wrote as far back as 1854. I presented "A German Requiem" on the airwaves only once before on Sunday, November 1, 1992. Simon Rattle recorded it for EMI live in concert in 2006 with the Berlin Philharmonic and the Berlin Radio Chorus. The two vocal soloists are soprano Dorothea Röschmann and baritone Thomas Quasthoff.
Sweden's great organ virtuoso Otto Olsson (1879-1964) wrote a quantity of Lutheran church music in a conservative style more like that of the nineteenth century Central European masters Brahms, Bruckner, or Reger. In his youth he composed a setting of the standard Latin text of the Requiem for large chorus, orchestra, and four solo voices. Olsson suppressed his 1903 Requiem, even though it sounds as mature and beautifully melodic as his much performed Te Deum written only three years later. Olsson never got to hear his masterpiece. It was first publicly performed in 1976, twelve years after his death. Next came a 1993 record performance in the Gustav Vasa Lutheran church in Stockholm. Olsson played the organ there for fully half a century. A reviewer for Fanfare magazine, Haig Mardirosian, heard the rehearsals for the Olsson Festival performances of this work and the Credo Symphoniacum. In reviewing the Proprius CD release of the Requiem he compares Olsson's closing music with Strauss' "Death and Transfiguration." "The Olsson Requiem stirs its listeners," Mardirosian wrote (Fanfare, March/April, 1994). "…It deepens faith. It soothes the grieving. It assures us, the living of the light beyond death… Listen and be uplifted then." Anders Ohlson conducts the Gustav Vasa Oratorio Choir and the Royal Swedish Opera Orchestra. Proprius reissued the 1993 festival recording in 2005.
SUND
ay NOVEMBER 9TH:
Just as Bizet did in his incidental music for Daudet's play L'Arlesienne (1872), Charles Gounod conjured up a tonal picture of the sunny South of France in his magical opera Mireille (1864). Mireille (pronounced "Mee-rey") is a much sought-after marriageable girl from the vicinity of Aries in Provence. She meets with a strange fate on the Feast of St. John or Midsummer Night. Gounod obtained permission from the author Friedrich Mistral to rework his long poem about Mireille, written in Provencal dialect, into a suitable opera libretto. Gounod's Mireille retains many folkloric touches from Mistral, including an element of the supernatural. After a lackluster premiere, Gounod and various other hands recomposed Mireille for a series of revivals. The EMI/Angel recording, release courtesy of French Pathé Marconi in 1980 on three LPs, returns to the original version of the score as reconstructed in 1939 by the conductor Henri Busser. Michel Plasson conducts Orchestra and Chorus of the Capitole de Toulouse, with soprano Mirella Freni in the title role and tenor Alain Vanzo as her chief suitor Vincent. The name Mirella is the Italian equivalent of the French Mireille. Those same Angel discs were last broadcast on Sunday, June 14, 1992.
SUND
ay NOVEMBER 16TH:
As his career moves along, America's most prominent composer in the minimalist style, Philip Glass (b. 1937), has turned out to be a prolific composer of operas and lyric theater-type music in general. Yet another one of his operatic ventures is
Waiting for the Barbarians
(1991), based upon the 1980 novel of the same name by South African writer John Coetzee. This is an allegorical work about the never ending war between oppressors and the oppressed, involving tensions along ethnic borders and the torture of prisoners. Glass has been creating socio-political operas like this going back to
Satyagraha
(1979), which dealt with Mahatma Gandhi's civil rights campaign in South Africa. (I broadcast the CBS masterworks recording of
Satyagraha
in LP format on Sunday, January 12, 1986.)
Waiting for the Barbarians
was released this year on two Orange Mountain CDs. This is a live-in-performance recording of the world premiere production mounted at the opera theater of the German city of Erfurt in 2005. Dennis Russell Davies conducted the chorus of the Erfurt Theater and the Erfurt Philharmonic Orchestra. While this is a German production, what is sung is in English language following Christopher Hampton's libretto.
Sunday NOVEMBER 23RD:
Longtime listeners to this program will remember my long ongoing series of broadcast of the early and lesser-known operas of Giuseppe Verdi, i.e. all the Verdi operas up to and including
Luisa Miller
(1849). The last one in the series was actually one from Verdi's middle period as a composer:
Simon Boccanegra
(1857/81), which sets forth his new breakaway operatic style. Verdi's first draft of
Simon Boccanegra
proved a failure in its premiere stage production, but he returned to it years later after he had written great successes like
Don Carlos
and
Aida
, and with the help of the astute librettist Arrigo Boito he reworked it into the form in which we know it today. Many passages of the improved score of
Simon Boccanegra
rank with the best music Verdi ever wrote in its dramatic passion and subtle tonal texture. On Sunday, June 5, 1994 I broadcast a classic recording of this work, issued in 1958 in the US on three EMI/Capitol LPs in early stereo sound. Gabriele Santini conducts the chorus and orchestra of the Rome Opera with a cast of singers whose voices are now legendary. Foremost among them is Tito Gobbi (arguably the greatest Italian baritone of all time) as Simon the Genoese seafarer turned political conspirator, destined to become the Doge of the city of Genoa. The incomparable diva soprano Victoria de los Angeles is heard as Simon's daughter Maria. You hear that same classic recording again today.
Sunday NOVEMBER 30TH: George Frideric Handel's Alexander's Feast is just the thing to listen to at Thanksgiving time since the oratorio describes a famous feast in classical antiquity. I have programmed recordings of it frequently on the Sunday next to Thanksgiving in years past. As originally given in 1736, Handel's musical setting of the poem by Dryden did not quite make a full evening's entertainment, so the composer augmented his score with an entire concerto grosso by way of an overture, and inserted two solo concertos, for organ and harp respectively, acting as interludes between the two long parts of the sung music, and after all that he offered up an Italian language cantata. All of this was performed in praise of St. Cecilia, the patron saint of music, who in Dryden's ode pushes aside the excesses of Alexander's pagan festivities. (In the traditional Christian calendar the Feast of St. Cecilia also November 21.) In the 1991 Collins Classics issue of Alexander's Feast conductor Harry Christophers has remained true to the first version of the score. We get to hear the solo instrumental works in their proper place, with the customary closing chorus to the words of Newburgh Hamilton, but the Italian cantata has been omitted. Christophers leads his own choral group, The Sixteen, with an ensemble of period instrumentalists, not to mention the vocal soloists, soprano Nancy Argenta, tenor Ian Partridge, and bass Michael George. These two Collins Classics CDs were last broadcast on this program on Sunday, November 30, 1997. This same recording was scheduled for rebroadcast on Sunday, November 26, 2006 but had been preempted so I take the opportunity to present it again today.
Sunday DECEMBER 7TH: St. Nicholas is one of the single most popular worthies in all Christendom. Many quaint stories are told about the fourth century bishop of Myra. He is the figure behind our contemporary image of Santa Claus. His feast day is December sixth. On which every Sunday falls closest that date I like to present some musical piece in his honor. Several times before I have aired the 1982 Music Masters recording of a twelfth century at liturgical drama about his life. Today comes the Saint Nicolas cantata of Benjamin Britten (1948). This, too, is a species of sacred drama originally intended for performance by a combined choir of voices from three English boys' schools and one girls' school, accompanied by piano, organ, strings, and percussion. A solo tenor takes the part of the Saint, singing words by Eric Corzier. When the composer himself recorded Saint Nicolas for Decca in 1957 his lover, tenor Peter Pears, took the title rôle. Britten directed the Aldeburgh Festival Choir and Orchestra, with young singers from schools thereabout. Decca remastered the early stereo tapings for reissued on a single CD in 2005 as part of a multi-disc set, "Britten conducts Britten."
There will be time remaining for a short operatic work by a contemporary American composer. Broadcast of this one-act piece commemorates another composer, John Lennon of Beatles fame, who was murdered by a loony fan on December 8, 1980 in New York City near the scene set in Michael Torke's
Strawberry Fields
(1999). In Central Park there is a circular mosaic monument, "Imagine," dedicated to Lennon's memory. Torke has imagined an aged opera fan, a lady of quality, sitting beside Lennon's monument, imagining that she is at the opera. Various passersby try to talk her out of her delusion. While the lady knows who Verdi is, she knows nothing of John Lennon. Michael Torke (b. 1962) lives and composes in New York City. In 1998 he was appointed Associate Composer for the Scottish National Orchestra. In
Strawberry Fields
, David Allan Miller conducts the Albany Pro Musica instrumentalists and nine singers. Torke's chamber opera was released on a single compact disc through his own Ecstatic Records label.
Sunday DECEMBER 14th: I regularly feature historic recordings, but this will be only the third time in more than a quarter-century of lyric theater broadcasting when I will again be presenting one that originated at Gylndebourne. When it was first recorded in festival production there in 1935, Mozart's Cosi Fan Tutte (1790) was virtually unknown on the operatic stage. On Sunday, December 27, 1987, I broadcast the Seraphim LP reissue of the monaural 78 rpm recording of Cosi with Fritz Busch conducting. Only one year prior to that wealthy English blue blood John Christie finished building his own opera house on the ancestral estate at Glyndeborune, Sussex, not far South of London. Christie was committed to the revival of Mozart's neglected operatic masterworks. His wife soprano Audrey Mildmay sang in early productions of them. Glyndebourne festivals became the fixture of the international opera scene. I next broadcast Mozart's Don Giovanni (1787) taped at the 1955 Festival, which RCA Victor picked up for release stateside on mono hi-fi LPs (Sunday, October 14, 1990). Now along comes a digitally remastered CD issue of early stereo sound tapings of Le Nozze di Figaro (1786) made live-in-performance at the 1962 festival. Silvio Varviso was on the podium directing the Royal Philharmonic Orchestra and Glyndebourne Chorus. And what a singing cast! Soprano Mirella Fieni is Susannna, Leyla Gencer is the Countess, and Edith Mathis takes the breeches role of Cherubino. Baritone Heinz Blankenburg is Figaro and Gabriel Bacquier portrays Count Almaviva. Glyndebourne Enterprises, Ltd. released the 1962 "Marriage of Figaro" on three silver discs in 2008.
SUNDAY DECEMBER 21ST: It's often said that the Christmas holiday season belongs to the children. With that truism in mind I try to program a "children's opera" on one of the Sundays in December. Rachel Portman's "Magical Opera" The Little Prince, which premiered at Houston Grand Opera in 2003, is based on the enormously popular book of the same name by Antoine de Saint-Exupery. First published in 1946, Le Petit Prince quickly established itself as a children's classic. Portman was convinced it was perfect material for an opera that would appeal to audiences of all ages, like Humperdinck's fairytale opera Hansel und Gretel. She conceived The Little Prince as a lyric stage work specifically to be performed by children. When it was filmed by BBC, a talent search was conducted throughout Britain to find the best child performers. BBC recorded their film production at Abbey Road Studios, London in 2004, with David Charles Abell conducting the BBC Concert Orchestra. The Little Prince soundtrack came out on two Sony classical CDs.
SUNDAY DECEMBER 28TH: Let's spend the Christmas holidays with Luciano Pavarotti! The superstar Italian tenor has been gone now for a year or two, but his memory lives on in the wealth of recordings of his singular voice. Pavarotti sang Rodolfo in Puccini's La Boheme (1896) to great acclaim. He was recorded in that rôle for Decca/London in 1972, paired with soprano Mirella Freni as Mimi. La Boheme is certainly a Christmas opera. Its first two acts take place on Christmas Eve, 1830 in the Latin Quarter of Paris. Also in the cast is Rolando Panerai as the painter Marcello, Nicolia Ghiaurov as the philosopher Colline, and Michel Senechal as the state councillor Alcindoro. Herbert von Karajan conducts the Berlin Philharmonic and chorus of the German Opera of Berlin. Decca has reissued Puccini's four warhorses of the repertoire starring Pavarotti in a boxed set of CDs. After La Boheme Pavarotti will continue to regale us with seasonal favorites drawn from his extensive discography.
As the year rolls around to its conclusion I remember with gratitude those who have been of so much help to me in handling this timeslot in 2008. Year after year Rob Meehan keeps on loaning me CDs from his enormous collection. He's a former classics deejay on this station going back to the 1970s (This year he did one show in another classical music timeslot on WWUH.) As a record collector he specializes in the alternative musics of the twentieth and twenty-first centuries. For this two-month period of programming Rob loaned me Michael Torke's Strawberry Fields and Rachel Portman's The Little Prince. Thanks also to my colleague Bob Walsh for substituting for me on a couple of Sundays as he has done in years past. Lastly, thanks to Vickie Hadge of Virtually Done by Vickie for preparing these notes for publication in our WWUH Program Guide. Vickie, and before for Kerry Atkins of Keystrokes by Kerry, made it possible for me to meet every bimonthly Guide deadline over the long