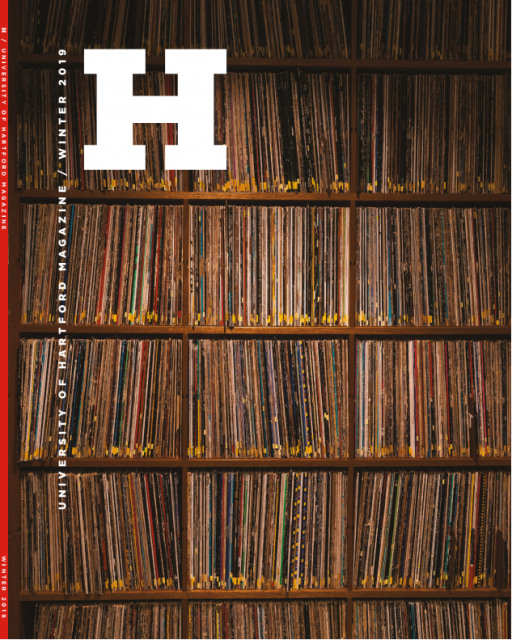 When the University of Hartford was incorporated just over 50 years ago by business and community leaders, they envisioned a center of education and culture for Greater Hartford. Read more...
Persons with disabilities who wish to access the WWUH Public File may contact John Ramsey at: ramsey@hartford.edu
Sunday Afternoon at the Opera - Hindemith: When lilacs last in the dooryard bloom'd; Copland: A Lincoln Portrait; Welwood: Threads of Blue and Gold
Sunday Afternoon at the Opera host Keith Brown writes:
To understand the programming for this Sunday of the Memorial Day holiday weekend you need to know that the holiday, originally called Decoration Day, began as a memorial to those who died in the American Civil War, the bloodiest conflict in our nation's history, with never-after-equaled mortality. The final casualty in that war was President Lincoln. Mourners piled the blooming boughs of lilacs on his coffin. Poet Walt Whitman seized upon the image, incorporating it into his elegy for the fallen leader, whose name he never specifically gives. German-born composer, Paul Hindemith (1895-1963), set Whitman's verse as a cantata for orchestra, chorus, and two vocal soloists. In 1946 Hindemith became a US citizen, having fled Nazi Germany after his music was banned there. Hindemith also wanted to memorialize another fallen leader in World War Two, President Franklin Roosevelt. Lilacs was commissioned by choral leader, Robert Shaw, for his Collegiate Chorale. Much later in his distinguished career Shaw recorded Hindemith's "Requiem for Those We Love" with the Atlanta Symphony Orchestra and Chorus. Baritone William Stone and mezzo Jan DeGaetani are heard in solo capacity. Listen for the offstage bugle intoning "Taps." a 1987 Telarc CD release.
Abraham Lincoln has been the inspiration for a quantity of musical literature. By way of example, I have broadcast on two occasions the BMOP Sound recording of Eric Sawyer's opera about the Lincoln assassination, Our American Cousin (2008), most recently on the Memorial Day weekend Sunday of last year, and before that on Sunday, May 23, 2009. Conductor Leonard Slatkin, the Nashville Symphony and the folks at Naxos Records got together and selected the best of these compositions for a 2008 CD compilation, Abraham Lincoln Portraits. Chief among them is Aaron Copland's Lincoln Portrait (1942), one of his most popular works. Copland's Portrait concludes with a brief recitation of the Gettysburg Address. Vincent Persichetti set the Second Inaugural Address to music in 1973. Then there's Roy Harris's Abraham Lincoln Walks at Midnight (1953), a setting of a poem by Vachel Lindsay for mezzo-soprano and piano trio. (Harris composed two "Lincoln" symphonies as well.)
Walt Whitman is our foremost male poet of the Civil War, but the greatest female poet of the same period is undoubtedly Emily Dickinson. Copland rendered some of her poems into song. Local composer, Arthur Welwood (1934-2020), is another of many to bring her concise lyrics to life in music. Welwood selected four poems reflecting on the progression of the months and seasons for a song cycle, Threads of Blue and Gold , which he scored for chamber ensemble and soprano voice. Clearly the "Belle of Amherst" loved Nature. Welwood's music captures every nuance of her bucolic verse. Threads of Blue and Gold was first performed October 5, 2009 at Berklee College of Music, where Welwood taught composition. The composer kindly gave me a CD copy of his own recording of the premiere performance. All the programming I've outlined here was part of my presentation on Sunday, May 30, 2010.