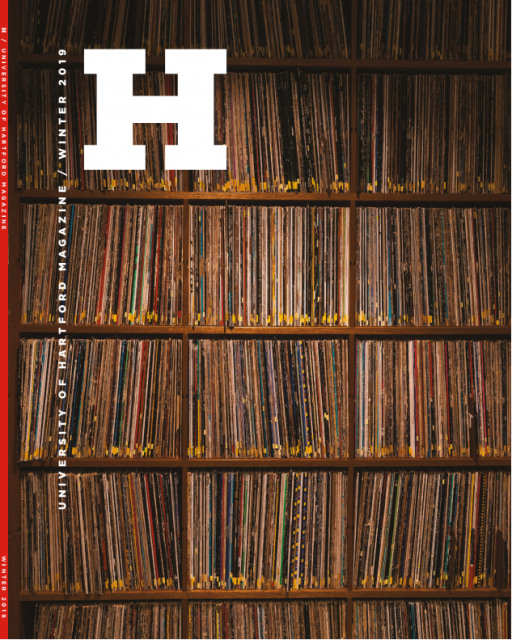 When the University of Hartford was incorporated just over 50 years ago by business and community leaders, they envisioned a center of education and culture for Greater Hartford. Read more...
Persons with disabilities who wish to access the WWUH Public File may contact John Ramsey at: ramsey@hartford.edu
A free-form list for a free-form show: Twenty Years of Call It Thing
by administrator on Tue, 08/24/2010 - 8:30pm
A free-form list for a free-form show:
Twenty Years of Call It Thing
by Kevin "Moondog" O'Toole
Hi, folks! It's been twenty years that I have been with WWUH as of this November. I haven't had time to cook up a properly organized list of favrite things of the past twenty years, so allow me to free associate a list in no particular order.
Thelonious Monk – Monk (Fantasy), Genius of Modern Music Volume 1 or 2 (Blue Note) and Thelonious Monk and John Coltrane – Monk/Trane (Milestone). My good friend Warren Byrd (himself a notable musician with Saskia Laroo, The Afro-Semitic Experience (with David Chevan) and on his own) firsat busted out the classic Thelonious Monk tracks on me in the eighties (though recorded in the fifties), and they left an indelible mark, influencing my understanding of music and art and even guiding the naming of my "Call It Thing" show. With deliberately vague song titles like "Think of One" and "Let's Call This", he gave an inspiring example of art that defied labelling.
Tom Waits – Small Change (Asylum), Swordfishtrombones, Rain Dogs, and Frank's Wild Years (Island) (among many others... Tom Waits began as a remarkable troubadour with a fantastic gift for poetry and eventually seized upon a gutsy experimentalism that found him seeking out the experimental musical instruments of Harry Partch and eventually constructing his own evolving and experimental means of sonic expression that never lost hold of the roots of American music. My buddy Dave turned me on to Small Change.
Sonic Youth – Daydream Nation (Enigma/ Blast First)
Mark Melnick (of "Dancing with Mark Melnick and Jimmy Swaggart", the then-Thursday Gothic Blimp Works, the show that came on right before mine in 1988) guided me toward my first proper intro to Thurston Moore, Kim Gordon, Lee Ranaldo and Steve Shelley with this classic double album which defined the furthest edges of what could be safely called "Grunge" three years later. But what's in a name?
Throwing Muses – House Tornado and Hunkpapa (Sire) and The Real Ramona (Sire/ Warner Brothers)
Thanks to Missy Roback and Grant Miller for turning me onto Kristin Hersh and Tanya Donnelly, who, with Davod Narcizo and Leslie Langston (later Fred Abong on Ramona) produced great rock and roll as informed by Sylvia Plath as by Patti Smith and the Ronettes
Public Enemy – Apocalypse '91: The Enemy Strikes Black (Def Jam/ Columbia)
Chuck D and Flava Flav at the height of their hip-hop powers, with explosive classics like "By The Time I Get To Arizona," "Move," "Shut Em Down," and the remix of "Bring Tha Noize" with the band Anthrax, cementing the alliance between hip-hop and rock that would redefine the territories of both.
Marc Ribot – Rootless Cosmopolitans (Island)
On this album, session guitarist Marc Ribot (who worked with Tom Waits, Elvis Costello and beat poet Allen Ginsberg) dropped a memorable set of pre-grunge noise, including a memorable cover of Jimi Hendrix's "The Wind Cries Mary" and the unforgettable ode to keeping the peace "Have aa Nice Day"
Happy Flowers – I Crush Bozo (Homestead Records)
The late, great Dave Zaluda turned me on to this band whose track "Fever Dream" demanded to be played and replayed. The track's protagonist screams for his mom and dad while hallucinating being attacked by "those green pillows from downstairs". Unforgettable, as was their follow up Oof! which featured "I Saw My Picture on a Milk Carton" and the lease-breaking classic "I Said I Wanna Watch Cartoons."
John Trubee and the Ugly Janitors of America – The Communists Are Coming to Kill Us! (Enigma)
Briefly a labelmate with the more commonly remembered Sonic Youth, Trubee aggressively marked his territory as a dangerous and memorably offensive artist in the age of Reagan and Bush 41. Crank calls that would not be in fashion until the Jerky Boys shared album space with tunes with memorable titles like "Shove the Plastic Down My Throat." A musical suggestion from my friend Roy, one of many.
Matthew Sweet – Girlfriend (Zoo)
Matthew Sweet reset his career after leaving A&M label and set a new high bar in guitar pop and songwriting, with free-flying guitar solos and beautiful vocal harmonies.
PJ Harvey – Dry (Indigo/ Too Pure)
The first album from Polly Jane Harvey arrived with a unique voice, great songwriting and a fantastic rhythm section.
Jeff Buckley – Grace (Columbia)
The brilliant soaring voice of Jeff Buckley was silenced far too soon, but not before he struck this classic set
Listen for three hours of new and rare sounds every Friday on the Friday Gothic Blimp Works- "Call It Thing" At Midnight after Friday Accent on Jazz.
Iron and Wine – The Shepherd's Dog (Sub Pop)
Sam Bush (aka Iron and Wine) showed up on my radar with this brilliant album last year, a beautiful and lyrically daring song cycle incorporating themes of religion and change in one of the more forward thinking albums of recent years.
Tune in to Call It Thing, the Friday Gothic Blimp Works, Fridays from midnight to three after Friday Accent on Jazz at 91.3 FM WWUH, 89.9 WAPJ Torrington and wwuh.org..
You can contact me via email at either of these addresses
Peace, and don't forget to vote,
Kevin