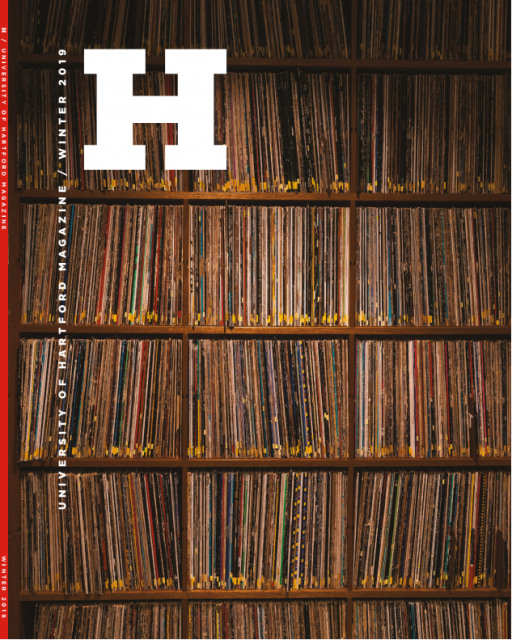 When the University of Hartford was incorporated just over 50 years ago by business and community leaders, they envisioned a center of education and culture for Greater Hartford. Read more...
Persons with disabilities who wish to access the WWUH Public File may contact John Ramsey at: ramsey@hartford.edu
CT Radio History Timeline 1990 - 2005
1991 Michael Harrison, who in 1990 founded Talkers magazine, the bible of talk radio today, hosts talk show on WTIC 1080 Hartford, helping WTIC transform from music station to talk-news station.
1992 Barney is introduced to PBS after being discovered by CPTV programming VP Larry Rifkin on a video rented from the Prospect, CT Video Store on Super Bowl Sunday. He sees the love his four year old daughter has for Barney, and brings Barney to television on PBS. ESPN radio network is launched, in Bristol.
1993 WVIT channel 30 begins nightly 10 p.m. newscast telecast on another channel, rather than its own. The WVIT newscast is telecast on WTXX channel 20, one of the first such arrangements in the nation. WCNX 1150 Middletown (now WMRD) begins all-traffic format in December, just before beginning of what will turn out to be the snowiest winter in Hartford since weather records have been kept.
1994 Play-by-Play telecasting of the University of Connecticut women's basketball is introduced on CPTV and UConn Women's Basketball becomes the highest rated program in public television history nationally.
1995 WTVU channel 59 New Haven begins telecasting after holding an FCC Construction Permit for 42 years. The original CP was granted in 1953. The station begins with a Lease Marketing Agreement with WTHX channel 8. The initial broadcasts include daily wall-to-wall coverage of the O.J. Simpson trial, relayed by satellite from KTLA channel 5 in L.A.
1996 Telecommunications Act of 1996 is passed, allowing one company to own as many as 8 stations in large markets, and a wave of consolidation of ownership begins. These clusters are formed in Connecticut by the early and mid 2000s: -Clear Channel Communications owns WWYZ 92.5, WKSS 95.7, WPKS 97.9, WKCI 101.3, WPHH 104.1, WHCN 105.9 and on AM WAVZ 1300 and WELI 960 in New Haven and in Hartford WPOP 1410. -Cumulus owns WEBE 107.9 Westport, WICC 600 Bridgeport, WRKI 95.1 Brookfield and WINE 940 Brookfield. -Infinity owns WTIC 1080, WTIC-FM 96.5, WZMX 93.7 and WRCH 100.5. -Cox owns WPLR 99.1 New Haven, WEZN 99.9 Bridgeport, WEFX 95.9 and WNLK 1350 Norwalk and WKHL 96.7 and WSTC 1400 Stamford. -Hall owns WCTY 97.7 Norwich, WNLC 98.7 Easy Lyme, WKNL 100.9 New London, WICH 1310 Norwich, and WILI 1400 and WILI-FM 98.3. -Citadel owns WSUB 980 Groton, WXLM 102.3 Mystic, WQGN 105.5 Groton and WMOS 104.7 Montauk, Long Island which is marketed as New London. 1996/1997/1998 WDRC 1360 and owner Buckley Broadcasting acquire 3 AM stations and set up a statewide network of AM stations, WDRC 1360, WSNG 610, WWCO 1240 Waterbury and WMMW 1470 Meriden. This provided a wider coverage area and wider audience for one of the best known morning drive talk hosts-Brad Davis, familiar to the 1960s generation as the host of the TV bandstand show on Channel 3's "The Brad Davis Show". WADS 690 Ansonia becomes Radio Amor, first all Spanish religious station in Connecticut.
1997 WHCT channel 18 Hartford, dark since 1991, resumes telecasting and resumes Connecticut's first full power all Spanish TV channel, WUVN. WVIT channel 30 is transferred to NBC, making is an NBC owned and operated station again, channel 30 had been an NBC O&O from 1956 - 1959. WMMM 1260 Westport is transferred to Sacred Heart University and becomes first NPR talk AM station in Connecticut. In 2000 the call letters are changed to WSHU-AM. WFSB channel 3 is transferred by Post Newsweek to Meredith Broadcasting. WPOP 1410 becomes ESPN affiliate full time, and becomes Connecticut's first all sports radio station. Quinnipiac University launches WQUN 1220 Hamden, Connecticut's first university owned commercial AM community radio station, the idea is conceived by veteran New York anchor Lou Adler, now associate professor at the university. WQUN serves as a lab for students and a service to the community. WTIC 1080's veteran news director, Walt Dibble, who was the dean of Connecticut radio newsmen, dies; Associated Press established a special annual news award with his name, honoring him. Walt is the only broadcast journalist on the list of the Connecticut Society of Professional Journalists Hall of Fame; earlier in his career he was at WDRC, Hartford, WAVZ New Haven and WICC and WICC-TV Bridgeport.
1998 WTNH channel 8 begins High Definition telecasts on WTHN-HD channel 10., It is the first in Connecticut. By the mid 2000s, most full power Connecticut TV stations are broadcasting in HDTV as well as analog, and all stations have their HDTV channel assignments.
1999 Keith Kountz becomes the first black person to become primary anchor of evening news on a TV station in Connecticut: WTNH channel 8. WEBE 107.9 Westport and WICC 600 Bridgeport are sold to Aurora Communications for an incredible $66 million.
2000 WDZK 1550 Hartford is transferred to Disney Radio and becomes the first children's format radio station in Connecticut.
2001 WTXX channel 20 and WCTX channel 59 swap networks: channel 20 becomes the WB affiliate and channel 59 becomes the UPN affiliate. On channel 59, a new 10 p.m. newscast with the channel 8 news department is created.
2002 Amber Alert system begins operation, coordinated by the Connecticut Broadcasters Association, in which all radio and TV stations in Connecticut can broadcast special emergency announcements in the event of an abduction of a child, and the lift of the child is in danger. Bob Steele dies. He had joined WTIC radio in 1936 and became the dominant morning host in CT. In the 1970s Bob Steele had more listeners than any station in Los Angeles. In recent years he continued to broadcast on WTIC 1080, on the first Saturday morning of every month.
2003 WGCH 1490 Greenwich is sold and becomes the flagship station in the Business Talk Radio Network. WFSB channel 3 Hartford acquires Low Power TV channel 67 in Springfield, MA which becomes WSHM-LP, and this station, carried on western Massachusetts cable systems, carries local advertising, and in September 2005 started carrying local newscasts for western Massachusetts.
2004 WAVZ 1300 New Haven starts broadcasting liberal talk radio, with the Air America radio network. It is the first liberal talk station in Connecticut.
2005 WSUB 980 Groton goes all Spanish, becoming the first all Spanish station in the New London market. WINE 940 joins ESPN becoming the first all sports station in Fairfield County. WTMI 1290 W. Hartford, all classical, becomes the first HD AM radio station in Connecticut; on FM in 2005, these stations are broadcasting in HD: WWYZ 92.5, WKSS 95.7, WPKX 97.9, WPLR 99.1, WEZN 99.9, WKCI 101.3, WPHH 104.1, WQGN 105.5, WHCN 105.9 and WCCC 106.9. WFSB channel 3 announces plans to leave Constitution Plaza in downtown Hartford and build a new complex in Rocky Hill.
Reprinted by permission from the Connecticut Broadcaster's Association
Written by Michael Collins © ® 2005
The preceding is from a pamphlet entitled "TIME LINE FOR CONNECTICUT BROADCASTING" released in November, 2005 by the Connecticut Broadcaster's Association to commemorate their 50th anniversary. It is one of the only comprehensive lists of its kind that we are aware of, and serves only as a companion to the WWUH History documents elsewhere within this website.
+