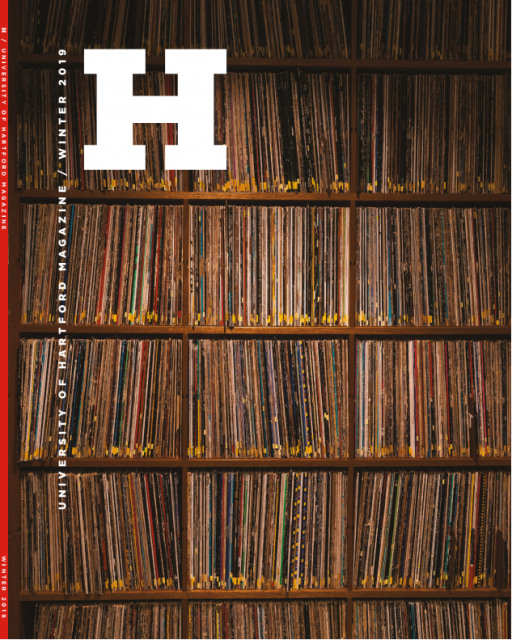 When the University of Hartford was incorporated just over 50 years ago by business and community leaders, they envisioned a center of education and culture for Greater Hartford. Read more...
Persons with disabilities who wish to access the WWUH Public File may contact John Ramsey at: ramsey@hartford.edu
CT Radio History Timeline 1950 - 1959
1950 WHAY 910 New Britain signs on, and is then acquired by DeDominicis family and has an all-Italian format most of the day during the 1950s and 1960s (now WLAT).
1950s Putnam, Willimantic, Groton, Old Saybrook, Manchester and Ansonia all get their own radio stations.
1952 Bob Crane is host at WBIS 1440 Bristol (now WPRX 1120), then joins WICC 600 Bridgeport as long-time morning host; will later star in CBS-TV's "Hogan's Heroes." First UHF transmitter is Stratford is sold to Portland, Oregon's KPTV channel 27 and is trucked to Oregon in pre-interstate highway America. The truck and crew are out of contact several times but successfully completes the trip. This enables WPTV to become the first commercial UHF station in the world, signing on in September 1952, thus giving it a four month jump on other early UHF stations in the US which sign on starting in December 1952, when manufactured transmitters become available.
1953 WKNB-TV channel 30 New Britain begins as Connecticut's second TV station, first station in Hartford County, and ends WNHC-TV's nearly 5 year monopoly status as Connecticut's only TV station. Channel 30 is a CBS affiliate. WICC-TV channel 43 Bridgeport begins as Fairfield County's first TV station and Connecticut's 3rd station. It is an ABC and Dumont affiliate. WATR-TV channel 53 Waterbury begins as Waterbury's first TV station and state's 4th station. It is an ABC affiliate. WDRC 1360 and WDRC-FM 93.7 broadcasting stereo on certain programs, with AM and FM signals used as the left and right channels. WPCT 1350 Putnam goes on the air as northeast Connecticut's first radio station (now WINY).
1954 WGTH-TV channel 18 Hartford begins as state's 5th TV station, and is an ABC and Dumont affiliate. Channel 30 runs ad in Hartford Courant with friendly welcome to channel 18. WNHC-TV switches from channel 6 to channel 8, broadcasting 'This 'N That" hosted by Dick Alexander, a very early regularly scheduled television program with a black host. Low point of FM; Only 5 of Connecticut's original 13 FM station are on the air, and survive; it is this year that the inventor of FM, Major Edwin Armstrong, takes his own life in Manhattan, thinking FM is a failure.
1955 Connecticut Broadcasters Association (CBA) founded - A group of broadcasters gathered at the studios of WNHC-AM/FM/TV in New Haven. Following a movement by broadcasters in Ohio, it was quickly agreed that there was a need for a statewide trade organization to represent and advance the common interests of Connecticut's broadcasters. WNHC GM Howard Maschmeier hosted the meeting. Among those in attendance were John Ellinger, then with WNAB Bridgeport (currently GM of WJMJ Bloomfield), Jim Stoltz, owner of WNLK Norwalk, Julian Schwartz, GM of WSTC Stamford Max Ryder, WBRY Waterbury and Paul Morency, President and GM of WTIC Hartford, Ryder was elected the first president of the CBA.
1956 WELI 960 New Haven introduced Saturday Night Juke Box, with Carl Loucks, a very early rock and roll program in Connecticut. When CBS and NBC decide to own UHF stations, they purchase channel 18 and channel 30 in Connecticut, operating them for several years. CBS's channel 18 become WHCT and channel 30 becomes WNBC, simultaneously standing for NBC and New Britain, CT (NBC's NYC stations have the call letters WRCA AM-FM-TV during this time). WHUS 90.5 Storrs begins at the University of CT, state' first educational FM station (today there are more than 30 educational FM stations in CT). WPOP 1410 Hartford Broadcasts Hound Dog evenings, very early rock and roll program in Hartford. The original WDRC-FM is sold to the Concert Network and becomes WHCN (the current WDRC-FM 102.9 begins in 1959).
1957 WTIC-TV channel 3 begins after proposals to make channel 3 educational in Hartford or move it to New London or Westerly, RI are rejected. WGHF 95.1 Brookfield begins as Fairfield County's first high power 20,000 watts FM station and begins testing the modern day system of FM stereo broadcasting, using a single stations and a single stereo receiver, this system -- multiplex stereo - is approved for use by FM stations starting in 1961 as one way to give a boost to FM radio.
1959 WICC goes rock in its music format, surprising staid Fairfield County, and also becomes a top news and information station. WICC employs a man to sit at the Greenwich train station and watch the trains come in, for accurate train reports, and introduced a weekend weather boat on Long Island Sound, one of the first two in the nation, the other being Seattle (WMMM 1260 Westport, WELI 960 New Haven and WNLC 1510 New London later have boats on Long Island Sounds. WICC subsequently introduced airplane reporter - Morgan Koolian - for weekend reports and for traffic during the week. Yale University's WYBC 94.3 New Haven signs on and becomes the first college station to operate commercially in Connecticut. Buckley family acquires WDRC 1360 and WDRC-FM 102.9 Hartford, early stations along with Providence's WHIM; Buckley group evolves into a major group of AM and FM stations nationwide today, including clear channel 50,000 watt WOR in NYC. The Rice family buys WILI 1400 Willimantic and establishes a group of radio stations in Connecticut noted for their strong community service. These stations WILI 1400 and WILI-FM 98.3 Willimantic WINY 1350 Putnam, WNTY 990 Southington (now WXCT) and WLIS 1420 Old Saybrook. Pat Sheehan is among those who started at WILI, and who goes on the be an icon in Ct TV news and WMRD 1150 owner Don DeCesare also was at WILI. Wayne Norman, known statewide for his Uconn basketball broadcasts, is with WILI 35 years, and is there currently. WFNQ 93.7 Hartford begins with all storecast music format, music for supermarkets, operated weekly from 9 am to 9 pm and Saturdays 9 am to 6 pm. This format was on several other stations in the 1950s, but WFNQ has it full-time from 1959 to 1962. his service is called the "simplex" system of using the main FM channel for supermarket music, and is replaced by multiplex where these services are carried on FM sub carrier signals, requiring special receivers.
Reprinted by permission from the Connecticut Broadcaster's Association
Written by Michael Collins © ® 2005
The preceding is from a pamphlet entitled "TIME LINE FOR CONNECTICUT BROADCASTING" released in November, 2005 by the Connecticut Broadcaster's Association to commemorate their 50th anniversary. It is one of the only comprehensive lists of its kind that we are aware of, and serves only as a companion to the WWUH History documents elsewhere within this website.
+