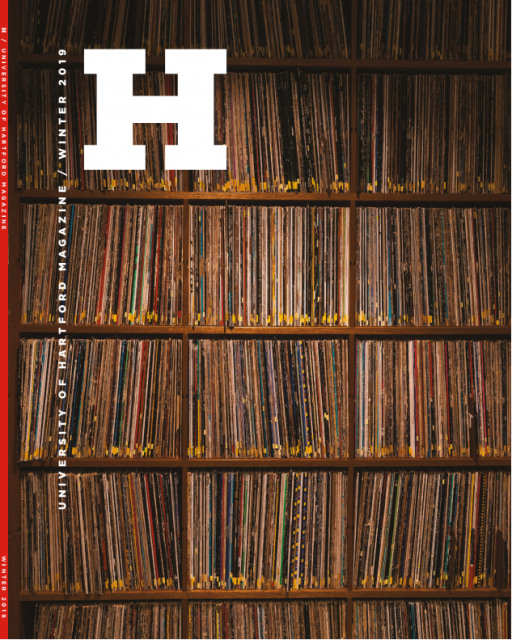 When the University of Hartford was incorporated just over 50 years ago by business and community leaders, they envisioned a center of education and culture for Greater Hartford. Read more...
Persons with disabilities who wish to access the WWUH Public File may contact John Ramsey at: ramsey@hartford.edu
Sunday Afternoon at the Opera - Brahms: Ein Deutsches Requiem; Delius: Requiem
Sunday Afternoon at the Opera Host Keith Brown writes:
Yesterday, November 2nd in the traditional Roman Catholic Church calendar was All Souls' Day, following All Saints' Day and All Hallows' Eve. The souls of the dear departed are honored on those feast days, so a Requiem mass is called for. I have two very different musical Requiems to offer you. That warhorse of the choral repertoire Ein Deutsches Requiem (1868) is Johannes Brahms' single longest composition. He seems to have written it with his recently deceased mother in mind. Brahms assembled his own text for his "German Requiem" from passages in the Lutheran Bible. Curiously, he left out any reference to Jesus Christ. Text and music were meant to comfort the living who grieve over those they have lost. "A German Requiem" is intended for the concert hall, not Lutheran church services.
The first time I broadcast "A German Requiem" was back on Sunday, October 20, 1991, when I presented an honest-to-gosh local recording of it on non-commercial LP's. I t was recorded live in concert here in Hartford in April of 1962 in an English language version, with Fritz Mahler conducting the Hartford Symphony Orchestra and Hartford Symphony Chorale. Most recently, on Sunday, November 2nd, 2008 came the original German language Requiem, with Simon Rattle directing the Berlin Philharmonic and Berlin Radio Chorus (EMI). Over the years I have aired four different recordings of the Brahms Requiem, all of them taken from our WWUH classics library.
In our holdings I found yet another one on two Columbia Masterworks LP's, released in 1977. Lorin Maazel conducts the New Philharmonia Orchestra and New Philharmonia Chorus. The two vocal soloists are soprano Ileana Cotrubas and baitone Hermann Prey. Piggybacked on this Colunbia release is the Brahms Alto Rhapsody, Op. 53 (1870),a setting of Goethe's verse for contralto, male chorus and orchestra. The contralto is Yvonne Minton, backed by the men's voices of the Ambrosian Singers. Maazel directs the New Philharmonia.
The Requiem Mass for the Dead arises out of a thoroughly Christian context. By contrast, I have next for your audition a pagan requiem by Frederick Delius (1862-1934), the "English Debussy", who was an avowed unbeliever, or rather an anti-religious pantheist. Deeply saddened by the horrors of the First World War, he wrote his requiem in 1914-16 while the bloody conflict was still underway. He dedicated it "To the memory of all the young artists fallen in the war." It was first performed in London in 1922 and was neglected thereafter. The recording you will hear is only the second performance of the work. It was made live in performance in Liverpool in 1965. Sir Charles Groves directed the Royal Liverpool Philharmonic Orchestra and Liverpool Philharmonic Choir, with vocal soloists soprano Heather Harper and baritone Thomas Hemsley. The Delius Requiem comes to us on a 1991 Intaglio compact disc release. My broadcast of this second requiem looks forward to the upcoming observance of Veterans' Day on November 11th, which was formerly called Armistice Day, the day when the Great War ended in 1918.