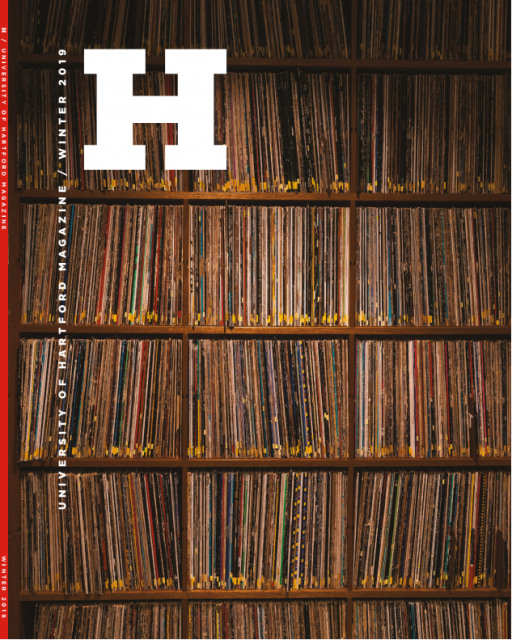 When the University of Hartford was incorporated just over 50 years ago by business and community leaders, they envisioned a center of education and culture for Greater Hartford. Read more...
Persons with disabilities who wish to access the WWUH Public File may contact John Ramsey at: ramsey@hartford.edu
Sunday Afternoon at the Opera - 2 Requiems
Host Keith Brown writes:
This Sunday is Armistice Day, the day in 1918 when World War I officially ended. Known as Veterans' Day in the United States, it honors those Americans who fought in all the wars in America's history. I have programmed two requiems for today, by Benjamin Britten and J.C. Bach.
Twice before I have programmed Britten's War Requiem (1962) on the Sunday before Memorial Day, that other American holiday of commemoration. Today's date is even more appropriate.
The War Requiem has been called Britten's finest work. Britten was a pacifist. He declined to serve in World War II. The poetry of Wilfred Owen, killed at the tender age of 25 just before the Armistice, served as a constant reminder to Britten of the horror and futility of war. "All a poet can do is warn," Wilfred Owen wrote. Britten's settings of his poems are a ghastly monumental musical warning to the world of what war should have taught us, but which it still seems we refuse to learn. Owen's verse is interwoven with the Latin text of the Mass for the Dead.
Britten himself was the conductor for the first recording of the work for Decca/London in 1963. There's a new recording of it out on the LSO Live label. Britten conducted the London Symphony Orchestra and Chorus back in '63. At the podium this time is Gianandrea Noseda. In the lineup of solo voices are tenor Ian Bostridge and bass Simon Keenlyside, joined by soprano Sabina Cvilak. The War Requiem was captured live in performance at the Barbican in London in October of 2011. More recordings from the Barbican on the London Symphony Orchestra's own label will follow.
There's time remaining this afternoon to listen to another quite different Requiem composition with a British connection. It's the music of Johann Sebastian Bach's youngest son, Johann Christian (1735-82), known as "The London Bach" because he spent his career from 1762 onwards to his death in the English capital city. He got his start as a composer, however, in Italy, in Milan, where he was associated with G. B. Sammartini, the violinist who created the new "gallant" classical style. Young Bach's first professional job was as organist of Milan's cathedral. It was during this pre-London period that he wrote his first masterwork, most of a Roman Catholic Mass for the Dead to the usual Latin text. He had already started writing operas to Italian librettos. Those operatic qualities come out strongly in the Missa da Requiem, alongside contrapuntal passages that would make his father, the Leipzig organist, entirely proud. There's a new recording of the J. C. Bach Requiem on a single Harmonia Mundi compact disc. Hans-Christoph Rademann directs the period instrumentalists of the Academy for Ancient Music of Berlin and the RIAS Chamber Chorus, with four solo voices. Reviewing this recording for Fanfare magazine (March/April, 2012 issue) Jerry Dubins writes, "The vocal soloists are all superb; the choral and orchestral forces are alert, focused, eager and energetic. . . Recommended on all counts. . . "