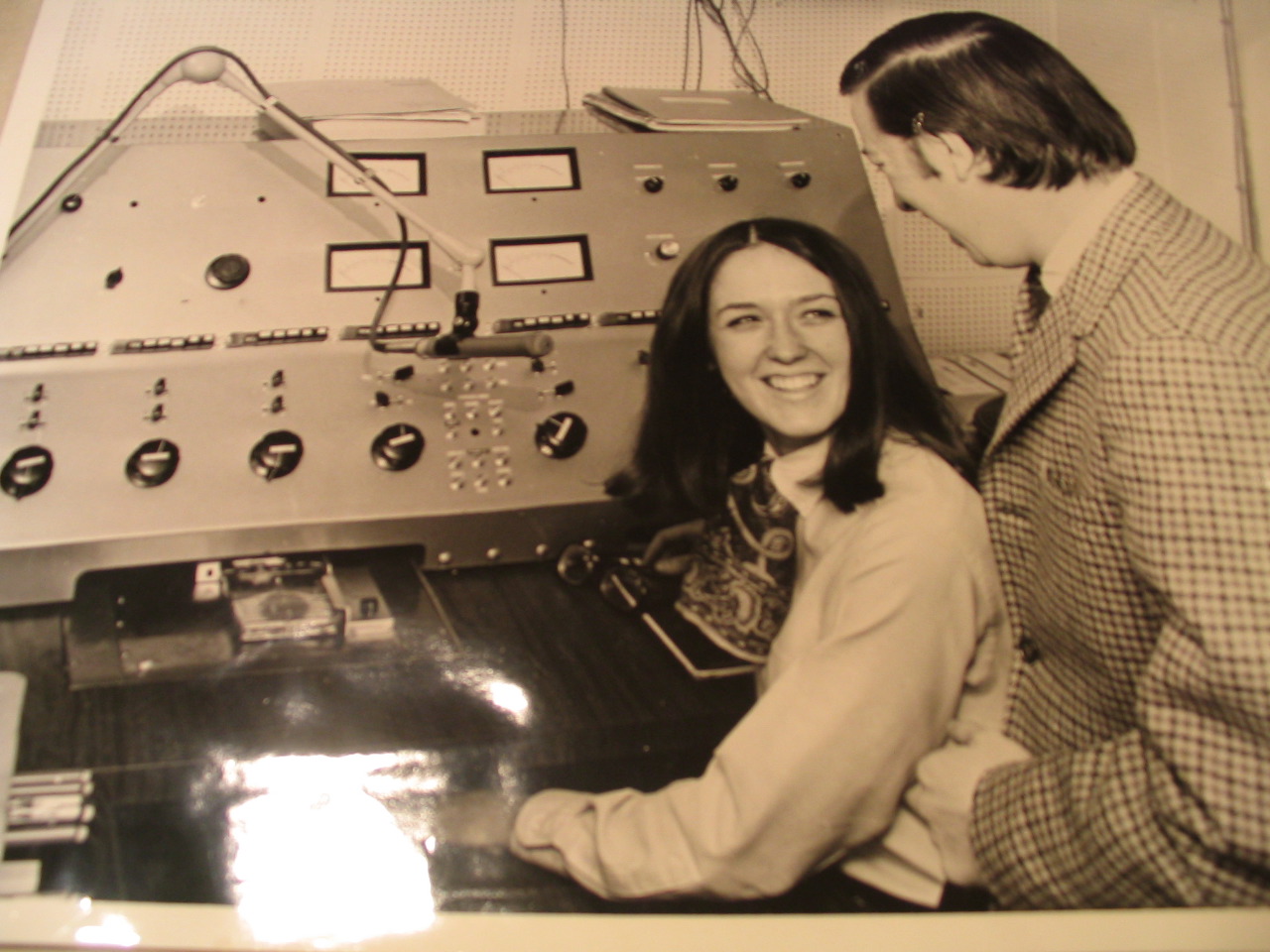 Watch 1980s video clip of WWUH in the News!

When the University of Hartford was incorporated just over 50 years ago by business and community leaders, they envisioned a center of education and culture for Greater Hartford. Read more...
Persons with disabilities who wish to access the WWUH Public File may contact John Ramsey at: ramsey@hartford.edu
Sunday Afternoon at the Opera
by administrator on Tue, 08/24/2010 - 8:03pm
your "lyric theater" program
With Keith Brown
programming selections for the months of July and August
Sunday July 4th:Gershwin, Porgy and Bess. For this Sunday, the Fourth of July, an American Opera is certainly called for. If there is an archetypal Great American Novel (Moby Dick, perhaps?), is there not also a great American Opera? The leading candidate for that title has got to be George Gershwin's Porgy and Bess (1935). Gershwin conceived it as a wholly sung opera, but following its premiere production on Broadway and after George's untimely death in 1937, Porgy and Bess as an opera was mutilated. Sung passages reduced to spoken dialogue, the orchestration was simplified and it was treated as a Broadway musical. Yes, Gershwin did sanction cuts here and there in the score, since it's performance time was so long, and he made numerous revisions in the music, some miniscule, some rather extensive. American lyric theater historian John Mauceri has restored Gershwin's original 1935 score, which necessitated keeping certain material and omitting various numbers. Sadly, Porgy's wonderful "Buzzard Song" had to go (Gershwin sanctioned this cut!), but reintroduced into the picnic scene on Kittiwah Island is the playing of the "Charleston Orphans' Band." Also restored are spoken interjections written into the 1935 prompter's book. Mauceri led the Nashville Symphony Orchestra and Chorus for a Decca/London recording of the "authentic" Porgy and Bess opera, made at the Tennessee Performing Arts Center in 2006. Baritone Alvy Powell and soprano Marguerite Lister are the Porgy and Bess of our generation. (They wowed me when I saw them in Connecticut Opera's 1998 production.) Musical Heritage Society picked up the British label's two CD package for distribution stateside.
Sunday, july 11TH: Corigliano, A Dylan Thomas Trilogy/ Mr. Tambourine Man. This Sunday more American vocal music of our time from a much-honored living composer. His fame may never quite rise to the immortal heights of Gershwin or Bernstein, nevertheless John Corigliano (b. 1938) ranks among our country's top classical composers. A Dylan Thomas Trilogy (1999) may end up being regarded as his most important large-scale composition. Corigliano first read the Welshman's poetry as a young man in 1959. Over the course of the next four decades, as the poems he so loved mirrored the changes in his life, Corigliano made settings of them and assembled them into an oratorio. The distinguished British baritone Sir Thomas Allen was chosen as principle vocal soloists for the world premiere recording of the Trilogy for Naxos Records, made in Nashville, Tennessee in 2007. Leonard Slatkin conducts the Nashville Symphony Orchestra and Chorus.
One of these Sundays I'll broadcast a recording of Corigliano's much praised opera The Ghosts of Versailles (1991) if I run across one. If you want more Corigliano today you have to content yourselves with a song cycle Mr. Tambourine Man: Seven Poems of Bob Dylan (2000/03), which Naxos also released as a world premiere recording along with the Trilogy in 2008. I find it hard to believe the composer was unfamiliar with Bob Dylan's song "Mr. Tambourine Man." How could any musically literate person living through the 1960s not remember Dylan's songs?! At least that is the pose that Corigliano strikes in writing his own notes for the Naxos release. He states that he was interested only in the lyrics Bob Dylan wrote, not Dylan's music. What he succeeded in doing Walter Simmons summed up in his review in the pages of Fanfare magazine (May/June, 2009 issue). Simmons says, "... he has managed to orate musical settings that a.) bear no resemblance whatsoever to Dylan's music; b.) capture the spirit and meaning of the text, and do so with remarkable imagination; and c.) for a satisfying song cycle that meets the standards of serious concert work. It is presumably for reasons such as these that this work won the most recent Grammy Award for Best New Classical Composition - the third such award Corigliano has received." Hila Plitmann is the "Amplified Soprano" for Mr. Tambourine Man as it was recorded in its later orchestrated version at Kleinhaus Music Hall in Buffalo, New York. JoAnn Falletta directs the Buffalo Philharmonic Orchestra.
Sunday, july 18tH: Haydn, Die Feuersbrunst/Orff, Carmina Burana. Beginning in 1970s with the PHILIPS recording project under the direction of Antal Dorati, the operas of Josef Haydn have appeared more frequently on disc. Whether in LP or CD format I have broadcast as many of them as I have come across over the decades. Haydn wrote his operas primarily for performance in the private theater of his patron the Hungarian Prince Eszterhazy. The Eszterhaza palace complex included an elaborate, large-scale marionette theater. For the sophisticated marionette shows Haydn was expected to provide instrumental and vocal music. The scores of Haydn's puppet singspiels have been largely lost. One of only two such surviving works that can be reconstructed for modern performance is Die Feuersbrunst, oder das abgebrannte Haus ("The Conflagration, or the House that Burned Down," 1776 - 77). The authenticity of some of its music is in doubt. Haydn's pupil Ignaz Pleyel seems to have composed at least part of its overture, and the master may have borrowed or reworked some numbers by other composers making this work something of a pastiche. This sort of Singspiel doesn't aspire to the majesty of Mozart's "Magic Flute." It's a simple comic opera that in modern media terms would translate into one of those Walt Disney feature-length animation movies with plenty of songs in the soundtrack. Unlike Disney, however, the Feuersbrunst comedy has a lowbrow sexual element. The reconstruct of Die Feuersbrunst that conductor Frank von Koten recorded with his musical forces in 1992 has omitted all of the spoken word dialogue in German language. He directed what is credited as the "Eszterhazy Orchestra" with an unnamed chorus and identified vocal soloists. This recording, made in the Netherlands, was taken up on one CD into the Dutch label Brilliant Classics 150 CD boxed set "The Haydn Edition," issued in 2008 in anticipation of the bicentennial of Haydn's death in 2009. You've already heard other recordings of Haydn's operas and sacred choral works on this program, also derived from this Brilliant Classics compendium.
From obscure Haydn we pass on to one of the most popular secular choral works of the twentieth century: Carl Orff's Carmina Burana (1936). The Latin songs called Carmina were preserved in a medieval manuscript found in a Benedictine monastery known as Benedikt-Beuern or Burana in the Bavarian Alps. The songs may be in the official language of the Holy Church, but they are surely secular - one might more accurately say profane, or even bawdy. Orff's modern musical approach to the medieval lyrics emphasizes a barbaric simplicity. He was imitating Stravinsky's Rite of Spring or Les Noces. His cantata has sometimes been staged with costuming. The music is so naturally applicable to acted-out interpretation that it made its way into film and television and has served as a model of what movie soundtrack music should be. We hear it today as it was recorded live in performance at the Barbican Centre in London 2007. Richard Hickox conducts the London Symphony Orchestra and Chorus. This recording for the British Chandos label was among the last Hickox ever made. He died suddenly at the age of 60 on November 23, 2008.
Sunday, july 25th: Gilbert and Sullivan,Utopia, Limited. G & S operettas always figure in my summertime programming mix. Here's one I bet you've never heard before! In 2001 Newport Classic released the first complete recording of Utopia, Limited (1893). I say complete because it includes all of Gilbert's witty spoken dialogue. With something unfamiliar like this, as a listener you really need to hear the dialogue to understand what's going on.The only other previous recording ofUtopia, Limited was a truly fine one from the early stereo LP era, with the original D'Oyly Carte Opera Company performing, but it lacks the dialogue. I broadcast those old London ffrr vinyl discs on Sunday, July 26, 1987. The Newport recording was made with an American company, Ohio Light Opera. Writing in Fanfare magazine (July/August, 2001) reviewer James Camner attests, "the whole cast of Newport'sUtopia, Limited is outstanding, their English diction so crisp and clean that it is hardly necessary to consult the libretto... Heartfelt thanks must go out from all the Savoyard's of the Ohio Light Opera, the director John Stuart and to the recording producer John Ostendorf." I last broadcast the Newport Classic recording on Sunday, July 7, 2002.
SUNDAY, AUGUST 1ST:Maconchy, The Sofa, The Departure/ Shawn, The Music Teacher. The focus this Sunday is on contemporary British and American opera. British composer Elizabeth Maconchy (1907 - 94) left us a triptych of one act chamber operas, two of which were recorded in 2007 from Sadler's Wells productions in London. The Sofa (1959) and The Departure (1962) were released on a single Chandos CD in 2009. The singers and players of Independent Opera of Sadler's Wells are directed by Dominic Wheeler. The Sofa is a romantic comedy about a hedonistic young man upon whom a curse is imposed: he must become the sofa on which he has seduced various women, the curse to be lifted only when another unmarried couple fornicates upon this piece of furniture. The Departure is a nostalgic ghost story. It deals with a woman who longs to be reunited with her husband, who has recently died in an automobile crash. Her wish is granted, but only for a brief stopover for her departed life partner's spirit. Writing about this Chandos in Fanfare magazine (July/August, 2009 issue) reviewer Colin Clarke states, "the recording is exemplary... urgently recommended..."
The Shawn brothers, Allen and Wallace, are pillars of the contemporary lyric theater scene in New York City. They have been collaborating on theater projects since their childhood. It was composer Allen Shawn (b. 1948) who wrote the music forThe Music Teacher, setting the libretto provided by his playwright brother. They began collaborating on this particular project in 1982, but the opera had to wait until 2006 for its premiere production by the New Opera Group in NYC. Like Monachy's operas, Shawn's The Music Teacher is on a chamber scale: four singers, a dozen speaking voices, and an ensemble of ten instrumentalists. This is an opera-within-an-opera. The external portion of it is a scene from the private side of the life of a conservatory professor of music. He has a brief sexual affair with a young female singing student. The outside part has spoken word dialogue. The anterior portion of the opera is entirely sung to a bizarre meat-grinder processed score of intertwined music styles, some contemporary, some historical. The setting is entirely classical - a sendup perhaps of the opera composer Gluck and the 18th century's favorite librettist Metastasio. The music teacher of the title purportedly composed the inner opera and the student singer performs in it. The Music Teacher comes to us on a single Bridge silver disc released in 2008.
Sunday, AUGUST 8TH: Grey, Enemy Slayer/ Glass, Itaipu/ Castelnuovo – Tedesco, Platero y Yo. Variety is the spice of life, so they say, and variety is the verysalsa of lyric theater programming this afternoon when I present three works, one each reflecting upon native American, South American, and Hispanic traditions. First comesEnemy Slayer: Navajo Oratorio (2007), the first such work in music history to set forth the creation myth of an indigenous North American people. Composer Mark Grey (b. 1967) is not Native American himself, but he teamed up with Navajo poet Laura Tohe, who provided him with English language text for Enemy Slayer. The Navajo people have a profound understanding of how war traumatizes the human psyche. Enemy Slayer is intended as an outreach from them to help heal the emotional wounds of war weary combatants throughout the world. Laura Tohe is a professor at Arizona State University. It was at Symphony Hall in Phoenix, Arizona that the Enemy Slayer was recorded for Naxos Records in 2008. Michael Christie directs the Phoenix Symphony and Phoenix Symphony Chorus, with baritone soloist Scott Hendricks.
America's leading minimalist composer Philip Glass was commissioned in 1989 to provide choral music to celebrate the construction of the Itaipu hydroelectric dam, situated over the Parana River on the border between Brazil and Paraguay. The Itaipu choral songs constitute the second feature of the afternoon. Robert Shaw and the Atlanta Symphony Orchestra and Chorus premiered Itaipu, which was recorded for issue through Philip Glass' own Orange Mountain record label. As my third offering you'll hear recitations of some delightful Spanish-language poems for which Italian composer Mario Castelnuovo-Tedesco (1891 - 1968) supplied musical accompaniment. Spanish-speaking folk of the world over have read to their children the poems in the collection Platero y Yo by Juan Ramon Jimenez (1881 - 1958), a Nobel Prize Laureate in literature. The poet imagines a series of conversations with a savvy donkey named Platero. Moni Oradia is the narrator in a Delos recording of "Platero and I." Backing him on guitar is Emanuele Segre. Castelnuovo-Tedesco chose 28 out of the 138 poems in the collection for musical treatment. Since Platero dies at the end of the series, Segre eulogizes him with the composer's transcription for guitar of Ravel's well-known "Pavane for a Dead Princess." Delos issued Platero y Yo on a single silver disc in 2009.
Sunday, AUGUST 15TH: Cimarosa, Il Matrimonio Segreto. Italianopera buffa always figures in my summertime programming. Domenico Cimarosa (1749 - 1801) was one of the most prolific composers of Neapolitan-style comic opera. (He wrote more than fifty of them.) Il Matrimonio Segreto (1792) is a model of the genre. Although Mozart and Rossini overshadow him today, the Viennese public at the time liked his "Secret Marriage" better than Mozart's Cosi Fan Tutte. The Austrian emperor Leopold II liked Cimarosa's opera so much he commanded an entire second performance of it on the night of its premiere. The source of Il Matrimonio Segreto lies in an English comedy that played at London's Drury Lane Theatre in 1776. Cimarosa's musical treatment of it continues to have appeal because of the beautiful melodies he wrote. The last time I aired this opera buffa masterpiece was way back on Sunday, April 21, 1985, when I presented a 1977 Deutsche Gramophon LP recording starring baritone Dietrich Fischer-Dieskau, with Daniel Barenboim conducting the English Chamber Orchestra. Now, a quarter of a century later, you get to hear and even older 1968 three LP set issued through the Italian Cetra label initially and released stateside through Everest Records. Manno Wolf-Ferrari conducts the orchestra and chorus of the Magg Musicale Fiorentino. A cast of stellar Italian singers of the mid-twentieth century are featured: bass Sesto Bruscantini as Geronimo, the wealthy merchant. Another basso Antonio Cassinelli is heard as Count Robinson, an English Milord taken straight from David Garrick's play. Soprano Ornella Rovero is Elisetta, the merchant elder daughter, who is promised in marriage to the count. Then there's soprano Alda Noni, who portrays Carolina, the younger daughter who is secretly married to the merchant young clerk Paolino, sung by tenor Cesare Valetti.
Sunday, AUGUST 22ND: Lehar, Giuditta. This is technically an operetta, but it was Lehar's closest attempt at serious opera. The story of Giuditta the femme fatale is no comedy, and the ending is sad. Giuditta was the finale for Lehar's career as a composer. Its score contains some of his most seductively beautiful melodies. This work was the last glorious gasp of that sentimental Viennese genre of lyric theater. Soprano Edda Moser is an absolutely stunning Giuditta in the 1983 EMI recording, with Vienna's operetta specialist Willi Boskovsky directing The Munich Radio Orchestra and Munich Concert Choir. Boskovsky played first desk violin in the original Vienna State Opera production under the composer's own hand in 1934. I have broadcast the same two LP EMI German Elektrola derived set three times before at this time of year in 1988, 1995, and 2003.
Sunday, AUGUST 29TH: Delius, Irmelin. I always reserve the last Sunday in August for one of the operas of Friedrick Delius (1856 - 1934), who has been called "the English Debussy." I do so because the music of Delius is so evocative of the lazy hazy end of summertime. Longtime readers of our Program Guide may remember my four-part series on the seven operas of Delius and the attributes of his style, which appeared in the Guide in 1988 - 89. This Sunday we commence a fifth cycle of broadcasts of all his operas with his first one Irmelin (1892). It's his single longest musical composition: a gorgeous fairytale of an opera with a libretto by the composer himself, based partly on Hans Christian Anderson's version of the medieval romance of the Princess and the Swineherd. Irmelin never saw the stage in Delius' lifetime. A pity too, since composers Edvard Grieg and Andre Messager praise the music. In 1953 Delius' friend and promoter Sir Thomas Beecham conducted an amateur performance of Irmelin which went unrecorded. In December, 1984 it was given a concert performance from the studios of the BBC Third Programme. The tapes of that broadcast were issued under BBC's Artium label, first on LP, then in CD format. I aired the three LP set way back in 1986, and the two CD issue three times before in 1990, 1998, and 2005. Norman del Mar directs the BBC Concert Orchestra and BBC Singers. A world premiere digital recording.
Many of the featured recordings in this two month period of programming came out of my own collection of Opera on CD and LP: the "authentic" 1935 version of Porgy and Bess. Gilbert and Sullivan's Utopia, Limited, Lehar's Giuditta, and Delius' Irmelin. Thanks to Rob Meehan a collector who specializes in the alternative musics of the twentieth and twenty first centuries, for the loan for broadcast of his Bridge CD of Allen Shaw's The Music Teacher. The rest of what you'll hear in July and August is derived from our stations ever-growing library of recorded classical music. Again I'm grateful for the assistance of Vickie Hadge of Virtually Done by Vickie for the preparation of these notes for cyber publication.