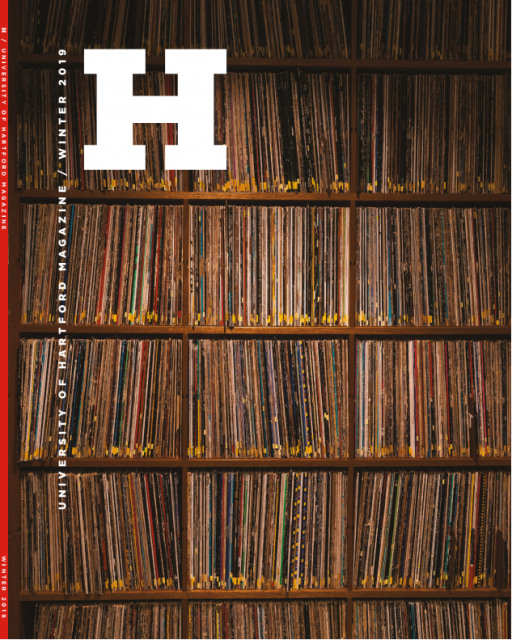 When the University of Hartford was incorporated just over 50 years ago by business and community leaders, they envisioned a center of education and culture for Greater Hartford. Read more...
Persons with disabilities who wish to access the WWUH Public File may contact John Ramsey at: ramsey@hartford.edu
Sunday Afternoon at the Opera - Moravec: The Blizzard Voices; Pepusch: Venus and Adonis
Sunday Afternoon at the Opera host Keith Brown writes:
Today's primary audio offering reflects upon weather conditions now in the dead of Winter. In Connecticut we remember the Great Blizzard of March, 1888. For us it was New England's biggest snowstorm ever. But in January of that same year there was a monumental snowstorm in the Northern Plainsland, one that also has been preserved in memory.
It was nicknamed the Schoolhouse Blizzard or Children's Blizzard because it struck so suddenly that schoolchildren had to leave for home right away. Many little kids froze to death in snowdrifts. Paul Moravec's The Blizzard Voices (2008) is an hour-long cantata or rather oratorio on the subject of this meteorological event. Paul Moravec (b. 1957) has previously composed two other cantatas on historical subjects: Songs of Love and War (1997), a setting of excerpts from letters sent to and from the fronts of four American wars, and Spirit (2002), based on Lindbergh's own account of his historic 1927 solo transatlantic flight. The Blizzard Voices takes its libretto from Ted Kooser's collection of poems about the storm, many of which he derived from historical records.
The oratorio was commissioned by Opera Omaha, who first performed it. It then went on to the Oratorio Society of New York. It was recorded in Mechanics Hall, Worcester, Massachusetts, in 2016. Gil Rose conducted the Boston Modern Orchestra Project and the New England Conservatory Concert Choir and Chamber Singers, with six vocal soloists. The Blizzard Voices was released on a single BMOP Sound compact disc in 2017.
We now turn from the contemporary American classical music scene to focus on some forgotten lyric theater music of the English baroque. Before Handel came to town there was another German immigrant composer in circulation in London at the very beginning of the eighteenth century. Johann Christoph Pepusch (1667-1752) was born in Berlin. He was a permanent resident of England from 1704 onwards. Pepusch is remembered today as the arranger of the popular tunes that went into John Gay's The Beggar's Opera of 1728.
Pepusch had close connections with the Drury Lane Theatre. He wrote much music for the stage in English language, also cantatas, odes, etc., but no Italian opere serie as Handel did. He did compose a series of dramatic English-style masques, the most elaborate of them being Venus and Adonis (1715). Pepusch had worthy English models to follow, notably John Blow's court masque Venus and Adonis (1685) and Henry Purcell's small-scale opera Dido and Aeneas (1689). Pepusch's Venus and Adonis in turn became the model for Handel's Acis and Galatea (1718). Pepusch was an ardent advocate of English opera. He knew English audiences didn't like the typical Italian operatic recitatives. He contrived his own style of English recitative blended with arioso passages.
Venus and Adonis incorporates that style. The little English opera received its world premiere recording in 2015 with the support of the British Handel Institute. Robert Rawson leads the period instrument ensemble with the curious "period" name the Harmonious Society of Tickle-Fiddle Gentlemen. There are three vocal soloists portraying Venus the goddess of love, the beauteous mortal youth Adonis and the god of war Mars. There's also a mini-chorus of huntsmen. Venus and Adonis was released on a single very generously timed Ramee compact disc in 2016.