WWUH Station History
~compiled by John Ramsey, General Manager/Chief Engineer
Suggestions, corrections, and submissions are welcomed.
Contact: John Ramsey, WWUH
Fax 860-768-5701 or email: ramsey@hartford.edu
Also of interest: A new, extremely interesting time line / history of CT Radio:
"TIME LINE FOR CONNECTICUT BROADCASTING"
Foreword: Why would anyone bother to create a written history of WWUH? Those who have volunteered at this truly unique station will understand the answer to this question. WWUH is, and hopefully always will be, more than just a station. Many of the thousands of folks who have volunteered at the station over the years know what I am talking about, and it is because of this that many consider themselves part of the "WWUH Family".
Over the years, I have been saving old documents for the future. I never thought of attempting to write a historical document until I was putting together the station's photo albums in preparation for the 30th anniversary in 1998. In going through the hundreds of pages, it came as a pleasant surprise that I was able to identify a significant number of the unlabeled photographs. It then hit me that, due to my "longevity" at the station, I had "saved" in my mind, bits and pieces of the station's history that no one else might have. It was a wonderful legacy, but one that ultimately would do no good unless I started writing down my recollections. I welcome any corrections or suggestions.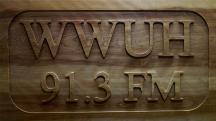 The Early Years
Many of us affectionately call Clark Smidt (University of Hartford's Class of '69) the "Father of WWUH". His ideas, dedication, and leadership made WWUH a reality and shaped its policies for many years to come. As one of the largest college radio stations of its time: the first in New England to broadcast in stereo, and one of the first to broadcast 24-hours a day. WWUH went on to become more than a college radio station, serving the greater Hartford area, coining the term Public Alternative Radio years before 'Public Radio' existed, and launching successful careers of many who crossed its path. WWUH continues today to offer the community different types of music, from classics to soul, in a noncommercial environment, to provide the University of Hartford a voice, and to act as a training ground for future broadcasters.

When Clark first developed the idea of starting a radio station at the University of Hartford, his love of - and commitment to - radio was already apparent with his part-time job at WBIS, a small AM station in Bristol, CT. Years later Clark would work as Program Director of WEEI and WBZ-FM, both in Boston, before starting his own broadcast consulting firm and later becoming licensee of WNNR-FM in Concord, NH, which, like WWUH, he started from scratch.

Here (with thanks to Bob Paiva's "The Program Director's Handbook") is the story of WWUH in Clark's own words:
"From day one of freshman orientation I started to ask about a radio station. I was told that people had thought about it before but that nobody had ever followed through. There was an open frequency at 91.3, and WTIC in Hartford had even agreed to donate a 1,000-watt FM transmitter and $2,000. I ran all over the school drumming up support for the project, and at the close of my freshman year, I was given the go-ahead to put together the University of Hartford radio station. I was still doing weekends at WBIS in Bristol, so I was considered a 'professional' and appointed the station's general manager with responsibilities for the station's programming."
"Support from the University community came from many sources: the Operations Department helped with the technical setup, engineering students were involved with station's technical operations, and various professors contributed programming material. The late William Teso, a professor at the engineering school, and Harold Dorschug, Chief Engineer at WTIC, was instrumental in properly completing the technical part of the FCC application and training the students."
"It took nine months to get the application through the FCC and on July 15, 1968, we signed-on the station with 1800 watts of effective radiated power and the call letters: WWUH. It was later pointed out that once you mastered saying WWUH, you could work anywhere."
"Although we couldn't accept paid commercials, we got a few donations and pulled some fast deals for acknowledged donations. We convinced Lipman Motors to lease a 1967 Rambler station wagon to the station for $1 a year for use as a news car. We announced on-air that the news was compiled through United Press International wire services and the 'mobile team in the Lipman Motors UH news wagon.' The white vehicle with red WWUH NEWS lettering and license plates, equipped with lights on top, was stolen only months later."
"Prior to 1968, Louis K. Roth, a generous Regent of the University, had told the President of the University of Hartford that he would finance the radio station. Mr. Roth passed away before we got things rolling, but his family still came to us with a check for $40,000. While serious consideration was given to changing the station's call letters to WLKR, we instead renamed the radio station the Lewis K. Roth Memorial radio station, and by the time I graduated in 1970, we'd built a complete stereo radio station and still had $14,000 of Mr. Roth's grant left."
"In the beginning, we were on the air from 6:00pm to 1:30am. We had an "easy listening" program for 45 minutes, 15 minutes of news, and a feature called, "Hartford Tonight," where we recapped things that were happening around town. We programmed information from 7-7:30, jazz from 7:30 to 10, and progressive rock from 10pm through sign-off. We ran opera on Sunday when we started broadcasting on weekends."
"For the first three weeks I had to run the control board for every show in order to train people, but within a year we were broadcasting 24 hours a day, seven days a week. The response from the community was tremendous."
Robert Skinner was the station's first engineer, and is credited by Clark with "making it all happen, from putting up the walls to filling out the FCC applications to installing the wiring and the transmitter. It would not have happened without Bob's expertise. He practically lived at the station the first year".
Headlines that first year: India suffers the worst famine in 20 years;
President Lyndon Baines Johnson asks for $1 billion in aid to the country; Medicare begins (July 1); Supreme Court decides Miranda v. Arizona, protecting rights of the accused.
1967 The University of Hartford filed an application with the Federal Communications Commission (FCC) in Washington for a new educational station in West Hartford, CT, and requested the call letters WWUH. The construction permit arrived in October from the FCC, giving official approval to start building the station. If the students built the station as promised, the FCC would grant them a license to operate.
As construction began and plans were finalized, WWUH took over rooms 328 and 330 of the Gengras Student Union, rooms originally allocated for the campus barbershop and valet. The layout of the station's facilities on the top floor of the Gengras Student Union was extensive for college radio. Room 330 was subdivided into four rooms and consisted of an on-air studio (approximately 8' x 12'), a single small AM studio (approximately 6' x 6'), and a small passageway which contained the large RCA transmitter and associated equipment. An entranceway /news room containing the teletype/ Room 328 became a production studio. The station office was a few doors down the hall. Soundproof walls were built around the studios proper. Later, an engineering shop was added on the first floor.
Major headlines in 1967: Israeli and Arab forces battle; Six-Day War ends with Israel occupying Sinai Peninsula, Golan Heights, Gaza Strip and West Bank (June 5).; Communist China announces explosion of its first hydrogen bomb (June 17); racial violence in Detroit; 7,000 National Guardsmen aid police after night of rioting. Similar outbreaks in New York City's Spanish Harlem, Rochester, N.Y., Birmingham, Ala., and New Britain, Conn. (July 23).Thurgood Marshall sworn in as first black US Supreme Court justice (Oct. 2); astronauts Col. Virgil I. Grissom, Col. Edward White II, and Lt. Cmdr. Roger B. Chaffee killed in fire during test launch (Jan. 27).killed in fire during test launch (Jan. 27).
1968 As the engineering department continued with studio construction and transmitter installation through the first half of 1968, other members of the management team were busy recruiting announcers. WWUH alumnus Charles Horwitz ('70) recalled:
"I clearly remember sweating the audition to be on the air (little did I know that the station was so desperate for bodies that absolutely everyone passed the audition except for the most grammatically challenged). The day I opened the mail and saw my FCC License was the start of a big change in my life. Because of my enthusiasm (and lack of any social life), I was assigned the Friday and Saturday late nighttime slots. These rock shows followed Mel Peppers (who used the name Maceo Woods on the air) and his Soul Experience. As soon as Midnight arrived and I started playing the loud stuff, the phones died and I could feel hundreds of radios being turned off simultaneously. I quickly learned to ease into the hard stuff by starting with a mix of blues, jazz and oldies. As Program Director you are occasionally forced into service when someone fails to show up for a show and one early evening classic slot stands out in my mind. I was trying to be the epitome of culture and taste among the rubble of the studios as they went renovation. My two best buddies, Stu Kaufman and John Labella conspired to disrupt the solemn tone of my show by inserting a duck call into the hole where the studio doorknob used to be. But when Stu let out a long blast that sounded more like a fart than a duck, I did the best I could to stifle my laughing, put on my best professional voice and said "excuse me" as my mother has taught me to do and continued on as if nothing had happened. After getting a record on the air I chased both of them down the hall and down the steps to the first floor."
On July 15, 1968, Western Union delivered a very important telegram to the station's offices on the third floor of the Gengras Student Union building. The telegram, from the Federal Communications Commission, authorized Program Test Authority for WWUH, giving the University of Hartford permission to turn on their new radio station.
The students who had worked so hard for three years wasted no time. At 4:05 PM that afternoon, after a short ceremony, they threw a switch and WWUH went on the air for the first time as The Voice of the University of Hartford. Family and friends of the people who had worked so hard to put the station together, who were tuned to 91.3 at that exact time, heard "The Star Spangled Banner" followed by "WWUH, West Hartford" spoken by Clark Schmidt. WWUH was born!
From day one, the station was committed to providing the greater Hartford area with professionally produced alternative programming that was not available on the commercial stations. The 1,800-watt signal was one of the strongest of any college station in New England, and WWUH made its debut as the first educational station in the seven-state region to broadcast in stereo. At sign-on, the station counted 701 albums in its collection.
The first daily schedule ran from 4 PM to 1 AM. Even with this abbreviated schedule, listeners started to take notice. Students produced news and public affairs programs with an emphasis placed on alternative news and progressive issues of concern to the immediate area were produced and aired. Many considered the community affairs programs provocative and even controversial, but people liked what they heard, and the University was very happy about the positive response they were getting about their new station. Early programming consisted of classical, folk and jazz music, with two newscasts a day. Progressive rock also appeared on the schedule, occupying the "graveyard shift," which ran from midnight to 3 AM each night. It was called "The Gothic Blimp Works," a program name that is still used today. WWUH's broadcast of progressive rock music preceded the start of WHCN, which calls itself "Hartford's First Rock Station." The histories of WWUH and WHCN intertwine often, starting with the fact that many WWUH rock music programmers were responsible for changing WHCN's format from classical music to rock music.
The WWUH transmitter, affectionately known as "Mother," was located in Room 330 of GSU, and the antenna sat atop a 90-foot tower also located at Gengras. The station started out broadcasting 100% of the time in stereo at a time when many of the "major" commercial station were still mono. The first transmitter was the RCA BTF-1, donated by WTIC where its 1,000 watts were fed in to a 3 bay Collins antenna. Even with the power of 1,800 watts, the antenna was so low compared to the surrounding terrain that the station covered only about a five-mile radius.
When school started that fall, students were treated to a concert by Jefferson Airplane in the Athletic Center.

WWUH was dedicated on November 20, 1968 to the memory of Louis K. Roth whose encouragement and generosity, and that of his family, helped make possible the creation, expansion and continued operation of WWUH. It was named "The Louis K. Roth Memorial Station" in a ceremony presided over by University Chancellor Woodruff. The plaque commemorating the dedication hung outside the air studio in the Gengras Student Union building for 21 years. In 1989, the plaque was temporarily removed for cleaning and then remounted outside the new air studio in the Gray Center.
Louis K. Roth (Portions of the following are from a publication entitled "Hartford Jews 1659 – 1970 by Rabbi Morris Silverman, c 1970, courtesy of The Connecticut Historical Society.) Born in 1896, Mr. Roth was educated at New York University and Columbia University. He began his career in 1924 as an independent distributor of radios. In 1935 he joined Radio Corporation, Victor Division as production manager of their electronic division. In 1944, he set up, with two partners, Radio and Appliance Distributors in Hartford. This firm eventually became one of the largest radio wholesalers in Connecticut. Mr. Roth was involved in many civic and community organizations. In addition to being a trustee of the Connecticut Opera Association, Mr. Roth was a trustee of the Julius Hart Musical Foundation here at the University of Hartford. He also served on various university committees and served on the Board of Regents of the University of Hartford from 1961 to 1967.
The Hartford Times, in a May 1967 editorial said:
"In the brief span of 23 years Louis K. Roth made an indelible mark on the civic, cultural and business life of this community. He was a man of diverse interests, unbounded energy and willingness to give uncounted hours to non-business activities in which he had a special interest.
"The list of the social and civic agencies with which he was identified in lengthy. They range from those formed to help needy persons to societies of a musical or other artistic or cultural nature.
"Mr. Roth took his community responsibilities seriously. He was generous with his money, time and counsel whenever the call came for assistance. Hartford will recall Louis Roth with the warmest recollection as a civic-minded citizen of the highest quality."
Major headlines in 1968: North Vietnamese launch the Tet Offensive, a turning point in the Vietnam War (Jan.-Feb.); American soldiers massacre 347 civilians at My Lai (March 16). Background: Vietnam War; President Johnson announces he will not seek or accept presidential nomination (March 31); Civil Rights leader Martin Luther King, Jr. is slain in Memphis (April 4); Sen. Robert F. Kennedy is shot and critically wounded in Los Angeles hotel after winning California primary (June 5) -- he dies June 6. Background: Timeline of Kennedy tragedies.
1969
Staff: Clark Smidt - General Manager; Neil Portnoy - Program Director; Ronnie Berger - Music Director. Special Advisor and Record Procurement: Dave Alper
In a January 9, 1969 memo to 'All Promotion Men and Record Distributors', Clark Smidt wrote:
"According to the October survey of the metro Hartford area by the American Research Bureau, WWUH-FM has an overall .6% of the total audience. And from 7 pm to midnight, we had 3.9% of the 18-24 crowd. I know it's not much but in October, WWUH was only three months old! Right now our schedule is as follows:
Monday - Friday
6-9am Rock
4-7pm Easy Listening
7pm Classics
9pm Jazz
12:30pm Progressive Rock
Saturday
7 am - 7pm Rock
7pm Jazz
10 pm Progressive Rock
Sunday
11am Easy Listening
3pm Jazz
7 pm Talk
7:30 pm Opera
10:30 pm Progressive Rock
"As of February 10, the new WWUH will be on the air with a carefully prepared rock format (with Top 40, Oldies, Progressive and L.P. cuts) from 6am to 5pm daily, and again from 10pm to 2am. Although we will remain mostly a stereo station, MONO CUTS WILL BE USED in playing new hits and leaning on good sides that other stations with tighter play lists refuse to play. 5-10pm will be devoted to quality, stereo programming with the emphasis on news features, classics, talk features and jazz. I hope we can count on your for continued service in ALL areas, in Stereo when possible…but if you don't have it, please send mono so we have the record. Thanks very much."
Programming continued to expand as more and more students and faculty became aware of, and involved with, the station as volunteers. The number of listeners grew as well, as shown by the increasing number of calls and letters the radio station received. Live musical performances were a mainstay of the station's programming with many performances presented live or prerecorded live. Recording engineer, Bob Katz, was instrumental in making these live broadcasts sound technically superior.
Major headlines in 1969: Communist China exploded its first hydrogen bomb (June 17); the US and USSR proposed a nuclear nonproliferation treaty. Background: nuclear disarmament; racial violence in Detroit; 7,000 National Guardsmen aid police after night of rioting. Similar outbreaks in New York City's Spanish Harlem, Rochester, NY, Birmingham, Ala., and New Britain, Conn. (July 23); Thurgood Marshall sworn in as first black US Supreme Court justice (Oct. 2); Astronauts Col. Virgil I. Grissom, Col. Edward White II, and Lt. Cadre. Roger B. Chaffee killed in fire during test launch (Jan. 27).