2010: November - December
Dear WWUH Listener
As the holiday season approaches WWUH continues to be there for you with music and public affairs 24/7. We hope you continue to enjoy our varied and eclectic programming. There have been a few changes as noted below with our programming and hosts. Stay tuned for more information on our Fall Fund Raiser, coming to your airwaves in mid October. You will be able to pledge over the phone or online. Feedback is always welcome at wwuh@hartford.edu
The WWUH 2010
FALL FUND RAISER
was an amazing success, thanks to everyone who pledged and helped us surpass our goal
$36, 000 pledged

reminders are in the mail for all who pledged by check -
you can send your payment to
WWUH
200 Bloomfield Ave
West Hartford, CT 06117

For those who paid by credit card your premiums
will be sent in the next 2-3 weeks.
Ambience Host Profile: Larry Bilansky
We finsh our profiles of the new Ambience hosts....
Ambience - The Final Frontier. . .oops make that The Final Sunday Each Month!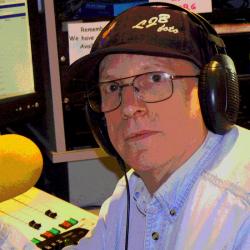 Your host is Larry Bilansky, who does not have a musical background except as an avid listener and, since 1993, as a program host on WWUH.
My interest in other than "Top 40" mainstream music began in my early teens. At 16, I sold my bicycle and used the proceeds to buy an FM radio. Nobody had an FM in those days, but that was the only way to hear classical music at the time.
Skip several tracks to the late 1980s. My musical tastes had subsequently developed to include jazz, blues, bluegrass and, of course, New Age music. I had discovered WWUH-FM shortly after coming to Hartford in 1981 and quickly became a regular listener and supporter of the station. In 1988 or 1989, I pledged during the WWUH marathon - my premium was to do an Ambience show with Susan. Due to communication and scheduling complications that never materialized, but it always remained in the back of my mind.
Skip a few more tracks to April 1993. I'm now a self-employed CPA in a solo practice. I always tuned in Evening Classics if I was working in the office. All of a sudden I hear Keith Barrett doing a casting call for classical announcers.
I thought "what the heck", called WWUH and the rest, as they say, is history. I started by doing a 13-week fill-in on Blue Monday, then got the Tuesday Evening Classics slot. I also did fill-ins for most our programs over the years, but Ambience remain elusive because Susan had her regular fill-in: Dave DeMaw. Finally, one Christmas when Dave wasn't available, my dream of doing Ambience finally came true. Now, in addition to my weekly classical program, The 20th Century Limited, I host Ambience on the last Sunday of each month.
Blue Monday
9 PM to midnight
hosted by Bart Bozzi
Tune in to Blue Monday during November and December 2010 for the following features:
Featured Artist
November 1 Solomon Burke
November 8 Nick Moss
November 15 Lucky Peterson
November 22 Chris Cain
November 29 Janiva Magness
December 6 Lonnie Brooks
December 13 Michael Bloomfield
December 20 Christmas Blues
December 27 Muddy Waters
Back to the Roots
November 1 Memphis Blues
November 8 Rhythm & Blues
November 15 Boogie Woogie
November 22 Texas Blues
November 29 Jump Blues
December 6 Delta Blues
December 13 Kansas City
December 20 Christmas Blues
December 27 New Orleans Blues
Tune in as we also go back in my blues history, featuring a cut I aired 20 and 10 years ago on my weekly blues shows previously aired on Overnight Blues and Blue Monday.
Join us as we explore the diverse and interesting world of "the blues" every Monday night at 9 PM on WWUH's long running blues show, "Blue Monday."
Classical Programming
WWUH Classical Programming – July/August 2010
Sunday Afternoon at the Opera… Sundays 1:00 – 4:30 pm
Evening Classics… Weekdays 4:00 to 7:00/ 8:00 pm
Drake's Village Brass Band… Mondays 7:00-8:00 pm
November

Mon

1

Britten: Folk Songs Volume 1 & 3; Walton: Partita for Orchestra; Bennett: Partita for Orchestra; Elgar: Violin Concerto

Drake's Village Brass Band - Buxton Orr: Music for Brass

Tue

2

Paul Hindemith: When Lilacs Last in the Dooryard Bloom'd (A Requiem for Those We Loved); Martinu: Lidice; Britten: War Requiem; Penderecki: Threnody for the Victims of Hiroshima

Wed

3

Smetana: Triumphal Symphony; Mozart: Missa Brevis in G; Goepfert: Clarinet Concerto; Mahler: Symphony No. 1

Thu

4

Charles in Charge.Avison: Concerto #10 in D; Alkan: Etude Op 39 #12 "Le festin d'Esope"; Lecocq: Le Fille de Madame Angot Overture; Griffes: Poem for Flute and Orchestra; Gesualdo: Tenebrae Responses; Beriot: Violin Concerto #1 in D; Gounod: Funeral March of a Marionette; Stanford: For Lo I Rise Up; CPE Bach: La Folia Variations in d Wq 118/9; Dittersdorf: Sinfonia in F; Luython: Canzon alla Francese; Nielsen: Serenata in Vano; Classical Happy Hour - Goldmark: In Italy; Baguer: Symphony #13 in E Flat; Parry: Lady Radnor's Suite; Weber: Rondo Brillante "La Gaite" Op. 62; Widor: Toccata; Ives: The Unanswered Question; Stamitz: Clarinet Concerto #8 in B Flat

Fri

5

Dimitri Shostakovich's Symphony No. 2, To October; Samuel Barber's Adagio for Strings

Sun

7

Verdi: Un Ballo en Mascera

Mon

8

Britten: Folk Songs Vol 5 & 6; Walton : Symphony #1; Burgon: Brideshead Revisited and Vocal Music

Drake's Village Brass Band... Black Dyke Band Play Philip Wilby: Red Priest and A Bronte Mass

Tue

9

Marcello: Oboe Concerto in d; Borodin: String Quartet #2; Bruckner: Symphony #4; Victoria: Missa O quam gloriosum

Wed

10

Gade: Symphony No. 8; Dowland: Lute Songs; Chopin: Piano Sonata No. 3; Martinu: Double Concerto

Thu

11

Casualties of the Great War. Moeran: Lonely Waters; Gurney: Songs; Farrar: English Pastoral Impressions; Coles: Scherzo in a; Granados: Goyescas – selections; Stephan: Music for Orchestra 1912; Magnard: Symphony #4 in c sharp; Bliss: String Quartet in A; Ravel: La Valse, Le Tombeau de Couperin; Miaskovsky: Sinfonietta for Strings #2 in b Op 32 #2.

Fri

12

Music for the birds: A tribute to "Robert J."

Sun

14

Rimski-Korsakov: The Legend of the Invisible City of Kitezh

Mon

15

Britten: Folk Songs Vol 2 & 4; Prokofiev: Cello Sonata; Walton: Violin Concerto; Nielsen: Woodwind Quintet; Hindemith: Octet for Winds and Strings

Drake's Village Brass Band - Hakan Hardenberger plays Classical Trumpet Concertos

Tue

16

Krenek: String Quartet #5; Ravel: Daphnis et Chloé;
Brahms: Clarinet Quintet; Martin: Messe pour double choeur

Wed

17

Bruckner: Symphony No. 4; Saint-Saens: Songs;

Villa-Lobos: Piano Concerto No. 3; Carpenter: Sonata for Violin and Piano

Thu

18

Loeillet: Sonata for Trumpet and Organ, Sonata a 5; Fasch: Trumpet Concerto in E; Weber: Silvana Variations Op 33, Piano Sonata #4; Lyapunov: Rhapsody on Ukrainian Themes, Violin Concerto in D Op 61; Paderewski: Piano Concerto; Vives: Bohemios, La Presumida/El Retrado de Isabela; Miaskovsky: Symphony #10 in f Op 30.

Fri

19

Bernstein's Symphony No. 3 Kaddish: A JFK Memorial

Sun

21

Music by Purcell, Handel & Haydn

Mon

22

Britten: Folk Songs addendeum; Walton: Viola Concerto; Elgar: Cello Concerto; Shostakovich: The Limpid Stream

Drake's Village Brass Band..Dances with Winds, The Royal Northern College of Music Wind Ensemble

Tue

23

Stamitz: Viola Concerto in D; Guridi: Sinfonia pirenaica; Meyer: Concerto for Cello & Double Bass;
Rachmaninov: All-Night Vigil

Wed

24

Dvorak: Symphony No. 9 "From the New World";

Telemann:Overture; Senfl: Motets; Hanson: "Merry Mount" Suite; Zelenka: Trio Sonata No. 2

Thu

25

Johann Bernhard Bach: Overture #4 in D; Gruber: Silent Night; Taneyev: Suite de Concert Op 28, String Trio in E Flat; Miaskovsky: Symphony #11 in b flat Op 34; Thomson: Symphony #3; Serly: Rhapsody for Viola & Orchestra.

Fri

26

Classical Conversations – a quarterly feature

Sun

28

Thomson: The Peaceable Kingdon, etc.; Copland: Suite from The Tender Land

Mon

29

Parker: Organ Sonata; Northern Ballad; Chadwick: Serenade for Strings; Ives; Violin Sonatas 2 & 4, Trio for Violin Cello and Piano

Drake's Village Brass Band - United States Coast Guard Band - Live in Japan

Tue

30

Vocal music by Telemann, Zelenka, and Vivaldi

December

Wed

1

Nielsen: Symphony No. 4; Eklund: Dies Irae from Requiem; Brahms: Sextet No. 1 in B Flat Major;

Ginastera: Cello Sonata

Thu

2

Battle of the Brandenburgs.Bach's Brandenburg Concertos interpreted by Alessandrini, Antonini, Egarr, Gardiner, Harnoncourt, Hogwood, Hugget, Linde, Pinnock, Pearlman, Savall, and Winschermann

Fri

3

Music of William Grant Still; George Gershwin's Concerto in F

Sun

5

Mendelssohn: Incidental Music for Athalla, Magnificat, Ave Maria; Bach: Magnificat

Mon

6

Musical Fables - Hindemith: Christmas Fairy Tale Suite; Marsalis: A Fiddler's Tale; Sondheim: Into the Woods

Drake's Village Brass Band - Christian Lindberg conducts the Swedish Wind Ensemble

Tue

7

Hosts choice

Wed

8

Vorisek: Symphony in D Major; Strauss: Songs with Orchestra; Schubert: Impromptus; Bruch: Concerto No. 1 for Violin and Orchestra; Reger: Flute Serenade in D Major

Thu

9

Guglielmi: Sinfonie; Lombardi-Sirmen: String Quartet #2 in B Flat, Violin Concerto in C Op 3 #6; Ozi: Sonata #1 for 2 Bassoons; Waldteufel: Waltzes; Turina: Danzas Gitanas, Sinfonia Sevillana Op.23, Piano Trio #2 in b Op 76; Miaskovsky: Symphony #12 in g Op 35; Ridout: Pigs; McKinley: Symphony #3 "Romantic".

Fri

10

William Grant Still's Symphony in

Sun

12

Niesen: Incidental music for Aladdin; Menotti: Amahl and the Night Visitors

Mon

13

Musical Travels- Bax: Four Songs for Voice and Orchestra; Vaughan Williams: Songs of Travel; Mahler: Songs of a Wayfarer, Symphony #1; Bennett: Reflections on a Scottish Folk Song

Drake's Village Brass Band - Laubin Brass Ensemble - Bach for Brass

Tue

14

Zelenka: Trio Sonata #3; Dvořák: String Quartet #10; Mahler: Symphony #1; Palestrina: Missa Papae Marcelli

Wed

15

Piston: Symphony No. 2; Handel: Water Music;

Scarlatti: Cantatas; Arensky: Suite for Two Pianos No. 3; Corigliano: Gazebo Dances

Thu

16

Beethoven: King Stephen Overture, Violin Sonata #8, An die Ferne Geliebte Op.98, Symphony #7; Boieldieu: La Dame Blanche Overture, Harp Concerto in C; Holmès: Ouverture pour une Comedie, Pologne; Kodaly: Cello Sonata Op.4, Hungarian Rondo; Shchedrin

: In the Style of Albéniz, Piano Concerto #2.

Fri

17

Classical Comedy

Sun

19

Hindemith: Das Lange Weihnachtsmahl; Smith: Vespers

Mon

20

Nantucket and Cape Cod Dreaming - Cooman: Nantucket Dreaming; Rorem: Views from the Oldest House, Nantucket Songs; Herrmann: Moby Dick Cantata; Perera: The Outermost House

Drake's Village Brass Band - His Majestys Sagbutts and Cornetts - English Music from Henty VIII to Charles II

Tue

21

Agricola: Chansons; Delibes: Coppélia; Shostakovich: String Quartet #7; Berlioz: L'enfance du Christ

Wed

22

Haydn: Symphony in B Flat; Fry: Santa Claus, Christmas Symphony; Respighi: The Fantastic Toyshop; Stravinsky: Renard; Glazunov: Piano Sonata No. 1

Thu

23

Marvelous Mackerras. A tribute to the late Australian conductor - Beethoven: Leonore Overture #3; Field: Piano Concerto #2; Mozart: Horn Concerto #4 in E Flat K. 495, Magic Flute – Highlights; Janacek: Sinfonietta; Martinu: Juliette Act 3 Finale; Schubert: Symphony #8 "Unfinished"; Vorsisek: Symphony in D.

Fri

24

Music of Libby Larson

Sun

26

Handel: Messiah

Mon

27

Volans: Hunting, Gathering; Pärt: Tabula Rasa; Hovhaness: The Rubaiyat; Korngold: Between Two Worlds; Messiaen: Garden of Love's Sleep; Harrison: Suite for Violin and American Gemelon

Drake's Village Brass Band - Christian Lindberg - Sacred Trombone

Tue

28

Classical Music for the Holiday Season

Wed

29

Borodin: Symphony No. 2 in B Minor; Khatchaturian: Concerto for Piano and Orchestra;

Donizetti: String Quartet No. 10; Ponce: Concerto of the South

Thu

30

Kraft: Cello Concerto #1 Op. 4; Vranicky: Symphony in D; Croft: Sonata in G, Voluntary in d; Foerster: Cyrano de Bergerac Op 55; Glière: Harp Concerto Op. 74; Kabalevsky: Comedians Suite Op.26; Bowles: Night Waltz; Van de Vate: Adagio and Rondo for Violin & String Orchestra; Davidson: Transparent Victims; Jaffe: Rhythm of the Running Plough.

Fri

31

Happy New Year on the final day of the first decade of the third millennium
Hartford Hawks and WWUH 2010
Hawks and WWUH
Prove Championship Pair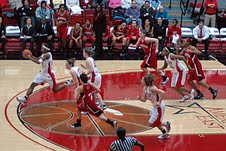 On the court and in the classroom, the University of Hartford Women's Basketball team has gained a national reputation for excellence.
In 2009-10, the Hawks earned the program's first-ever at-large bid into the NCAA Tournament after posting 27 wins and going undefeated in America East converence play. It was the sixth-straight season that Hartford won 20 or more games and participated in postseason play.
The Hawks also reached uncharted territory in the national polls, where they climbed to number 19 last March.
The team was just as successful with the books, compiling a team grade-point average of 3.321 during the 2009-10 season, the 23rd best in the nation as recognized by the Women's Basketball coaches Association.
This season, the Hawks will travel to Cancun for a three-game tournament over Thanksgiving. Joining Hartford at the Caribbean Challenge will be Penn State, Utah and Wisconsin-Green Bay. Other non-conference challenges will come against Boston College, Temple and Marist. The first two will come on the road, while the Hawks will welcome the Red Foxes back to Chase Arena on December 7.
The Schedule for the beginning of the 2010 Season follows:
WWUH will broadcast the games again this season, broadcasts start 15 minutes prior to the start of the games. We hope you will enjoy hearing the Hawks live on WWUH again this year.
For ticket information contact theMalcolm & Brenda Berman Athletics Ticket Office at (860) 768-HAWK or thru the Hartford Hawks website.
11/12/10 Fri. @CCSU 7pm
11/15/10 Mon. @Boston College 7pm
11/20/10 Sat. vs. Providence 2pm
11/22/10 Mon. vs. Sacred Heart 7pm
11/25 Thu. vs. Green Bay (Caribbean Challenge) TBA
11/26 Fri. vs. Utah (Caribbean Challenge) TBA
11/27 Sat. vs. Penn State (Caribbean Challenge) TBA
12/3/10 Fri. @Harvard 7pm
12/7/10 Tues. vs. Marist 7 PM
12/10/10 Fri. @Temple 7pm
12/12/10 Sun. vs. Dartmouth 2pm
12/22/10 Wed. @Hofstra 2pm
12/29/10 Wed. @Coppin State 7pm
Notes from Celtic Airs
Steve Dieterich, Producer/Host of Celtic Airs
Slide Ireland is a flamboyant, energetic Irish quintet. They take their name from the liveliest and most exciting dance rhythm of the south of Ireland. Slide Ireland will return to the University of Hartford's Wilde Auditorium December 10th at 7:30 PM.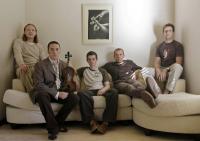 The band's origins date back to 1999. Current members previously performed with well known bands including De Dannan, Danu, Stockton's Wing and the Liam Clancy Band. Together in Slide Ireland, "they produce an electrifying fresh sound that takes Irish music to new heights." (Donal Lunny). The Irish Times says, "Slide Ireland is a powerhouse quintet of traditional musicians with attitude." Folk Roots magazine said, "This band successfully merges youthful swagger with traditional expertise."
Slide Ireland's line up includes the original quartet of Daire Bracken (fiddle, guitar, mandolin), Aogan Lynch (concertina, whistle), Eamon De Barra (flute, whistles, bodhran, keyboards) and Mick Broderick ( mandolin, bouzouki) They were joined in 2008 by young Dave Curley of Galway (banjo, mandolin, bodhran, guitar and vocals) who had just been added to the band when they made their previous appearance here.
In 2001, Irish Music Magazine named Slide Ireland "Best Newcomers." They developed their talents at major venues and festivals including The National Concert Hall in Dublin, The Cambridge Festival in England, The German Folk Festival and the Interceltic Festival at Lorient in Brittany. Their hard work paid off, and in 2005, The Arts Council of Ireland bestowed upon them "The Young Music-wide Award." From 2001 to 2007, the band released three studio albums. Then in 2009 they fulfilled the wishes of many fans by releasing a live album, "Beo", which clearly displays their talent and understanding of the tradition.
From mesmeric trance to nail biting energy, Slide Ireland will entice the concert-goer on a journey of musical exploration. Their music is held in high regard by their contemporaries and audiences alike. "Slide Ireland is the future of Irish music" (Radio Ireland). They are living proof that innovation need not compromise tradition.
Tickets for the WWUH/Celtic Airs concert series care only available from the University of Hartford Box Office, open 10:00 AM to 6:00 PM, Monday to Friday. Call 1-800-274-8587 or 860-768-4228.
You can also purchase on line at: www.hartford.edu/hartt
Slide Ireland's performance on December 10th will bring to a close the 2010 edition of the WWUH/Celtic Airs concert series. We appreciate your support and hope you will continue to attend and enjoy these events. Plans for 2011 are already well along with concerts by Lunasa, Runa, The Press Gang and The Old Blind Dogs booked for the first part of the year.
Tune into Celtic Airs every Tuesday morning 6:00-9:00 AM for concert updates AND the best in Celtic music, new and old. It's nice to know you're out there listening!
Sunday Afternoon at the Opera
Your "lyric theater" program
With Keith Brown
Programming selections for the months of November and December
Sunday November 7th: Giuseppe Verdi's Un Ballo en Maschera ("The Masked Ball," 1859), although it came along at a time when the composer was at the height of his powers, it is not one of his best operas. Not that the musical treatment isn't up to Verdi's high standards. The Opera suffers from a mutilated libretto. It would have been suitable if the censors in Naples hadn't forced some ridiculous changes on it. "A Masked Ball" should have been set in Europe, in Sweden actually, in the year 1791 when the Swedish monarch Gustav The Third was assassinated at a costume ball. To please the censors the scene was shifted to New England - to Boston, to be exact. There's an element of humor in this opera that is otherwise lacking in Verdi's total operatic output, with the sole exception of a very early workUn Giorno di Regno (1840), which is a comedy. The 1975 EMI recording of Un Ballo en Maschera is graced with an internationally acclaimed cast of singers. Tenor Placido Domingo and mezzo Fiorenza Cossotto are among them. Riccardo Muti directs the New Philharmonic Orchestra and the Chorus of the Royal Opera House, Covent Garden. "A Masked Ball" will be heard again today as I last broadcast it on Sunday, April 16, 1989 in a digitally upgraded LP reissue from Angel records.
Sunday November 14th:Rimsky-Korsakov, "The Legend of the Invisible City of Kitezh," (1907). Nicolai Rimsky-Korsakov was never entirely satisfied with his penultimate lyric stage work. In their collaboration composer and librettist were at odds from the first. Although the premiere of the opera was a success, the public and critics alike were confused about the extent to which the work combined mysticism and realism. Kitezh exists on two levels: a quite realistic little market town in the wilds of Siberia East of the Volga River (Lesser Kitezh), lying under the threat of attack by the Tartars, and a shimmering Shangri-La or the New Jerusalem of the Apocalypse. The inhabitants of Lesser Kitezh seek refuge in the greater city that floats upon the clouds hanging over a nearby lake. Rimsky-Korsakov's orchestration for the score of "Kitezh" was never more colorful: every page of it is full of folk like melody that is Russian to the core. The centerpiece of the 1994 Rimsky-Korsakov Festival in St. Petersburg was a production of "Kitezh" which was recorded live in performance. I broadcast the PHILPS recording of the opera on Sunday, June 9, 2002. There was another, older recording of this work in circulation in 1999 in a two-CD reissue through Danton Productions under their Lys label. This one was originally taped from a 1956 radio Moscow broadcast in high fidelity monaural sound. The Lys digital transfer is surprisingly good, making for a truly pleasurable listening experience. Vassili Nibolssine conducts the USSR Radio Orchestra and Chorus of the Bolshoi Theatre, Moscow. That Lys reissue was last heard on this program on Sunday, June 8, 2003.
Sunday November 21st:Purcell, Handel, Haydn, Cecilian music. Tomorrow, November Twenty Second in the traditional Christian calendar is the feast day of St. Cecilia, a second century AD Roman martyr for the Faith, who over time has come to be considered the patron saint of music. Her cult was furthered by the founding, in Rome in 1594, of the Academia Santa Cecilia. Similar societies of music lovers arose all over Europe in the century that followed. They gave concerts in her honor. In 2009 the French Naive label brought together three of the greatest examples of Cecilian music for issue on a two-CD set. England's musical genius Henry Purcell (1659 - 95) was commissioned to write four Cecilian odes in the course of his all-too-short career. The last one, "Hail, Bright Cecilia!," his Ode for St. Cecilia's Day, 1692, is the finest such composition of the entire seventeenth century. George Frideric Handel (1685 - 1759) was an Englishman by adoption. His 1739 ode is styled "A Song for St. Cecilia's Day" and takes its text from the poet John Dryden. The Cecilian music is as grand and glorious as you might expect from the man who penned Messiah. Later on in the eighteenth century the music of Franz Joseph Haydn (1732 - 1809) became hugely popular in England and the composer paid two triumphant visits to London. Haydn composed many musical settings of the Roman Catholic Mass. His "St. Cecilia Mass" is an early work. Originally called in Latin Missa Cellensis, it was dedicated to the honor of the Blessed Virgin Mary. It was taken up for performance in Vienna at the Brotherhood of St. Cecilia, for which Haydn greatly expanded the score. We get to hear the Kyrie and Gloria sections written in 1766, augmented by two fugal passages from the Credo added in 1773. In all three Cecilian works our performers are the period instrumentalists of Les Musiciens du Louvre, Grenoble and their Grenoble chorus conducted by Mark Minkowski.
Sunday November 28th:Thompson, The Peaceable Kingdom, etc/Copland, Suite from The Tender Land Randall Thompsom (1899 - 1984) and Aaron Copland (1900 - 90) were two composers who defined what American music was in the twentieth century. Thompson made his mark with beautifully crafted choral works in a conservative, accessible style well-suited for performance by amateur groups. These have become classics of the repertoire, such as his famousAlleluia (1940). Thompson was much impressed with an American folk art painting The Peaceable Kingdom (c. 1833) by Edward Hicks. His a cappella choral compositions of the same name (1936) sets verses from the Old Testament book of Isaiah ("The lamb shall lie down with the lion," etc.). The Peaceable Kingdom, Alleluia, the Mass of the Holy Spirit (1956), The Last Invocation (1922), and a late work, Farewell (1974) are all intended for unaccompanied mixed voices. The voices we will hear are those of the Schola Cantorum of Oxford, conducted by James Burton. This British group recorded all of these works in the chapel of Exeter College, Oxford University in 2008 for the UK based Hyperion label.
Our Harvest Home Americana program continues with a cantata derived from Aaron Copland's operaThe Tender Land (1954). I broadcast the complete and fully orchestrated opera on Sunday, July 7, 1991 in its world premiere Virgin Classics recording. Conductor Murray Sidlin made a half-hour digest out of the most affecting scenes ofThe Tender Land in a chamber orchestrated adaptation that was sanctioned by Copland himself. TheSuite from the Tender Land was played publicly for the first time at the Aspen Music Festival in Colorado in 1996. Sidlin's chamber version of the entire opera premiered here in Connecticut at the Long Wharf Theater in New Haven in 1997. The 1999 Koch International Classics recording of Sidlin's adaptation went over the air on this program on Sunday, July 3, 2005. As in that recording of the whole opera, in the 1997 Koch release of theSuite from the Tender Land Sidlin directs the Third Angle New Music Ensemble. The Tender Land is an American folk opera set on a farm in the Middle West at harvest time. Heard as the farm girl Laurie is soprano Monica Yunus, opposite the hired hand Martin, who is tenor Robert MacNeil.
Sunday December 5th:Mendelssohn, Incidental music for Athalia, Magnificat/J.S. Bach, Magnificat. Everyone has heard Mendelssohn's incidental music for Shakespeare'sA Midsummer Night's Dream (1843). Mendelssohn also wrote music for theatrical productions of classical Greek dramas Antigone (1841) and Oedipus at Colonnus (1842), as well as Athalia (1845), a biblical tragedy from the pen of the seventeenth century French dramatist Racine. All these plays were rendered into German language versions at the behest the King of Prussia. Athalia premiered at Berlin precisely at this time of year, and since its Old Testament story deals with the royal line of David and prophesies the coming of Jesus the Messiah, the drama and its music are perfectly appropriate for performance at Advent. So that the musical numbers could be performed without Racine's play, Mendelssohn asked his friend Eduard Devrient to write some narrative passages to string everything together. Athalia has received the recording it so justly deserves from the German Hänssler Classic label. A male and female narrator were employed when Athalia was recorded at the International Bach Academy of Stuttgart. The founder of the Academy, Helmut Rilling, directs his own choral group, the Gächinger Kantorei and the Symphony Orchestra of Southwest German Radio Stuttgart. There are three solo singers. Musical Heritage Society picked up the Hänssler Classic released in 2010 for distribution in the United States.
The singing of the Magnificat has been a part of the Christian liturgy from earliest times. The Latin text is taken verbatim from the Gospel according to St. Luke and consists of the Virgin Mary's response of praise to God upon the Annunciation, i.e. the Archangel Gabriel's announcement to her that she will bear the Son of God. The Magnificat is the central component of Vespers or Evening Prayer. During Advent and Christmastide the Magnificat takes on special significance. It was for festive performance of Christmas Vespers, 1723 that J.S. Bach composed his famous setting of the Magnificat. The child prodigy Felix Mendelssohn took Bach's Magnificat as a model for his own Magnificat in D Major of 1822. It was his first large scale work for orchestra, chorus, and vocal soloists. You'll get to hear both Magnificat compositions as sung by the Yale Schola Cantorum, accompanied by the Yale Collegium Players, conducted by Simon Carrington. The Magnificats were recorded at Yale University's Woosley Hall in New Haven. A 2009 Naxos release on a single silver disc.
Sunday december 12th:Nielsen, Aladdin/Menotti, Amahl and the Night Visitors. Fantasy and fairytale hold the stage at Christmastime and the theatrical pageants we remember from childhood. Carl Nielsen wrote extensive incidental music forAladdin, a Danish fairytale drama in five acts that was splendidly produced at the Royal Danish Theatre in Copenhagen in 1919. If you like Grieg's incidental music forPeer Gynt you'll most likely enjoy NielsensAladdin, since it has the same components: dances, orchestral interludes and mood pieces, vocal solos and choruses, and spoken word melodrama. Those voiceovers with orchestral accompaniment were treated as purely instrumental numbers when Aladdin was recorded for the British Chandos label in 1992 in the Danish Radio Concert Hall, Copenhagen, in coproduction with Radio Denmark. Gennady Rozhdestvensky conducts the Danish National Symphony Orchestra and the Danish National Chamber Choir.
A staple of the Christmas operatic repertoire is Gian Carlo Menotti's Amahl and the Night Visitors (1951). You'll hear the new Naxos recording of Menotti's beloved work with the Nashville Symphony Orchestra and members of the Nashville Symphony Chorus, George Mabry conducting. Appendixed to the opera on a single Naxos CD is a brief choral workMy Christmas (1987) to Menotti's own text, his personal reminiscences of the holiday. Again, Mabry leads the male voices of the Nashville Symphony Chorus and members of the Nashville Symphony.
Sunday december 19th:Hindemith, Das lange Weihnachtsmahl/Smith, Vespers. Fond memories of Christmas dinner with family are part of the holiday idyll. What if it was possible to attend a Christmas feast that encompasses ninety years of a family history? That's what the distinguished American playwright Thornton Wilder had in mind in his one-act playThe Long Christmas Dinner (1931). German composer Paul Hindemith approached Wilder about rendering his play into a suitable opera libretto. Wilder took on the challenge and gave Hindemith exactly what he wanted for his last operaDas lange Weihnachtsmahl (1961). Hindemith himself translated Wilder's libretto into German and crafted his music so that the opera could be sung in either English or Deutsch. We get the German language version in a 2005 Wergo recording with Marek Janowski conducting the Berlin Radio Symphony Orchestra and vocal soloists.
I've already mentioned in these notes how the holy office of Vespers and the singing of the festive Magnificat are traditionally associated with Advent and Christmastide. Kile Smith's Vespers premiered at the latter end of the celebratory period at Epiphany in January of 2008 in Philadelphia. Composer Kile Smith (b. 1956) is deeply committed to the musical traditions of North German Lutheranism. His Vespers permits a Latin language setting of the Magnificat plus German chorales. The music draws upon the musical stylings of the sixteenth century, the century of the Reformation. What really gives this world premiere recording its pleasing tang is the sound of a renaissance wind band and the sound of other instruments of the period accompanying the choral forces of The Crossing, Philadelphia's preeminent vocal group devoted to new classical music. The wind band backing them is the world renowned Piffaro ensemble.
Sunday december 26th:Handel, Messiah. Arguably the greatest English language oratorio ever written, Handel'sMessiah (1741) resounds in performances around the world at Christmastime. There are also plenty of Messiah recordings to choose from in a variety of stylistic approaches to the famous music. Yet the compiler of Messiah's libretto, Charles Jennens, seems to have intended Handel's work for performance at Easter, since the last part of it deals with Christ's resurrection and the resurrection of all Christian souls.Among so many current recordings out thereFanfare magazine's reviewer Ron Salemi, writing in the May/June, 2010 issue, rates Stephen Layton's Messiah on the Hyperion label as a very good one. The historically informed and period instrument recordings predominate these days. Conductor Layton remembers from his youth how deeply he was inspired by Christopher Hogwood's 1980 recording for Decca/L'Olseau Lyre of the definitive period instrument interpretation ofMessiah in the Foundling Hospital version. For the 2009 Hyperion release Layton directs a modern instrument chamber orchestra, the Britten Sinforia, who are thoroughly informed in baroque playing practice. Over the past fifteen plus years Stephen Layton and the choral group he founded, Polyphony, have given annualMessiah concerts at St. John's, Smith Square in central London. The Hyperion recording captures their 2008 performance. Layton gives us a slightly modified take on Handel's 1750 score, the so-called Foundling HospitalMessiah, which we have come to assume represents Handel's final thoughts about this music.
All but three of the featured recordings in this two month period of programming come out of our WWUH classical music record library, the three exceptions being Rimsky-Korsakov's "Invisible City of Kitezh," Mendelssohn'sAthalia, and Copland's Tender Land cantata. Those recordings come from my own collection of opera on disc. Thanks once again to Vickie Hadge of Virtually Done by Vickie for her assistance in preparing these notes for the online publication of the WWUH Program Guide. Looking back on my calendar year 2010 I must also thank my fellow classics deejays Larry Bilanksy and Will Mackey for substituting for me.
Thursday Evening Classics - Steve Petke
November 18
Carl Maria von Weber
Birth: November 18, 1786 in Eutin, Oldenburg, Germany
Death: June 5, 1826 in London, England
Weber was the son of a musician and theatre manager. While his education was sporadic, he was fortunate to study with Michael Haydn and Abbé Vogler. Appointed Kappelmeister at Breslau in 1804, he left under unpleasant circumstances to become music director to Duke Eugen of Württemberg in Carlsruhe, where he wrote his only two symphonies. He then moved on to an appointment at the court of the duke's brother Ludwig in Stuttgart, then returned to Württemberg only to be dismissed for a minor offence. Weber spent some time traveling, including to Frankfurt for the production of Silvana. He also began making a reputation as one of the great keyboard virtuosos of the day, touring with clarinetist Heinrich Bärmann, for whom he wrote some of his finest concertante works. Weber gained fame as an opera composer with the 1811 production of Abu Hassan. Weber had progressively championed operatic reforms and the development of a German operatic tradition. Although there were capable German-speaking composers, the idea of a German opera generated opposition, as the public regarded it as primarily an Italian art form. In 1813, Weber became director of the Prague Opera, where he remained until 1816. There he was able to establish reforms that included greater prominence of the orchestra, more careful rehearsal of the singers as dramatic artists, and increased emphasis on scenery and costume. Moving to Dresden as director of the German Opera in 1817, he was able to further develop his ideas. The successful staging of Der Freischütz in 1821 made Weber the most famous musician in Germany. Here, finally, was a work whose plot, rustic characters and dramatic folk-inspired melodies were recognizably Germanic. Although Weber's next opera, Euryanthe was less successful it did introduce the technique of recurring musical themes throughout the entire opera, which would become essential in the stage works of Wagner. By this time, Weber had also written concert music including solo piano pieces, the Piano Quartet, Clarinet Quintet, two piano concertos and a Konzertstück for piano and orchestra. In 1825, Weber was invited to London to conduct Oberon, which had been commissioned for Covent Garden. Though suffering from tuberculosis, he conducted concerts and played in aristocratic houses to accumulate all the money he could. He knew he was dying and was determined to provide for his family. Despite a convoluted libretto and wayward stage direction, the opening of Oberon was a triumph, and Weber was given a rapturous welcome by audiences. Weber died in the English capital in 1826, shortly after the premiere of Oberon at Covent Garden.
Ignace Jan Paderewski
Birth: November 18, 1860 in Kurylowka, Poland
Death: June 29, 1941 in New York, NY
Paderewski was born into an affluent, cultured family and received piano lessons from an early age. He entered the Warsaw Music Institute before he was 12 to study piano, harmony, and counterpoint. Upon graduation in 1878 the Institute hired him as a piano teacher. By 1880 he was married and a year later found himself a widower and father of a disabled son. Forsaking Warsaw for cosmopolitan Berlin, Paderewski pursued composition studies between 1881 and 1883 and made the acquaintance of Moritz Moszkowski, Richard Strauss and Anton Rubinstein. Feeling the need for further piano study, Paderewski sought out the great Polish pianist and pedagogue Theodor Leschetizky. Despite raw talent, Paderewski lacked technique. Applying himself rigorously during three years of intense study with Leschetizky, he transformed his mediocre ability into a world-class technique. His Vienna debut in 1888, followed by enormous success at a concert in Paris launched his international career. He appeared in London and went on to New York. In the U.S. and Canada he gave over 100 concerts, a punishing schedule that was repeated annually. For his North American tour he traveled in his own private railway carriage, with a chef and valet. Other tours took him to South America, Australia, New Zealand, and South Africa, as well as the greater and lesser cities of Europe. From this point Paderewski became something of a cult figure, but he drove himself without respite, and the cost to his health and compositional output was considerable, especially as he suffered badly from nerves and endured an exhausting regime of daily practice when preparing a concert. At his height, he was the most famous and highest paid pianist in the world. His appeal to audiences was undoubtedly partly due to his striking, leonine appearance and hypnotic stage presence. But box office success was translated into philanthropy, sponsorship of competitions, and in 1915, the Polish Victims Relief Fund. In 1919 he was chosen independent Poland's first Prime Minister, in which capacity he signed the Treaty of Versailles. He had, however, little interest or ability in politics and soon resigned, preferring to be regarded simply as an elder statesman. He resumed his concert career in 1922, touring into old age and frailty to raise funds for the Polish cause in the wake of the Nazi invasion in 1939. As a composer Paderewski wrote the celebrated Minuet in G, the Nocturne in B, a Piano Concerto, the opera Manru, a Piano Sonata, and a Symphony and a handful of other works.
November 25
Sergey Taneyev
Birth: November 25, 1856 in Vladimir, Russia
Death: June 19, 1915 in Dyudkovo, Russia
Taneyev was born into a prosperous and aristocratic family and received an outstanding education. At the Moscow Conservatory he studied piano with Nikolay Rubinstein and composition with Tchaikovsky, who became a close friend. Taneyev received gold medals in both at his graduation in 1875. Taneyev made his first impact as a pianist, giving the first Russian performance of Tchaikovsky's Piano Concerto #1 and the Russian premieres of all of Tchaikovsky's other works for piano and orchestra. After touring as a pianist for three years, Taneyev reluctantly took a position in 1878 at the conservatory, where he would later become director. After four more years, he resigned, becoming once again a private instructor, in order to concentrate on composition. In 1905, Taneyev stopped teaching completely and resumed his career as a pianist. Taneyev composed four symphonies, six string quartets, a Piano Quintet, a Piano Trio, other chamber works, songs, and piano music. Taneyev's most ambitious work was his remarkable three-act opera Oresteya, which, because of its length and weight, he called a trilogy. Although he wrote a large quantity of keyboard, orchestral, vocal, and chamber music, he is known today primarily as the teacher of Scriabin, Rachmaninov, and Glière. He is also remembered as an important theorist for his rigorous studies of counterpoint and canon.
Virgil Thomson
Birth: November 25, 1896 in Kansas City, MO
Death: September 30, 1989 in New York, NY
Thomson started playing piano at age 5 and began taking lessons with local teachers at age 12. He studied organ from 1909 and worked as an organist in his family's church of Calvary Baptist, as well as in other churches in Kansas City. He enlisted in the Army and served during World War I in a field artillery unit. He also received training in radio telephony at Columbia University and in aviation in Texas. The war ended shortly before Thomson was to leave for France. After the war, Thomson enrolled at Harvard University, where he first began to compose. It was at Harvard that Thompson developed his appreciation of choral music, modern French music and the writings of Gertrude Stein. Thomson spent the summer of 1921 touring Europe with the Harvard Glee Club. After the tour, he remained behind to study organ with Nadia Boulanger, under a John Knowles Paine Traveling Fellowship. Upon his return the U.S., Thomson returned to Harvard and became organist and choirmaster at King's Chapel in Boston. After his graduation from Harvard in 1923, a grant from the Juilliard School allowed him to go to New York, where he studied conducting and counterpoint. From 1925 to 1940, Thomson resided in Paris. It was there, that he met and collaborated with Gertrude Stein on the opera, Four Saints in Three Acts, perhaps Thomson's most famous work. After a period exploring the realm of "pure" music, Thomson returned during the late 1930s to a more nationalistic vein with scores to documentary two films, The Plow That Broke the Plain and The River, and a ballet, Filling Station. In October of 1940, Thomson became music critic for The New York Herald Tribune. Although he continued to compose during his 14 years at the post, Thomson established himself as one of the foremost critical writers of the era. His writings were unpretentious, cleverly witty, at times deeply provocative, but always highly opinionated. They provided material for three anthologies: The Musical Scene, The Art of Judging Music and Music, andRight and Left. Throughout the 1950s and 1960s, Thomson traveled extensively as a guest lecturer, or a conference participant, all the while continuing to conduct, write articles, and compose.
December 9
Joaquín Turina
Birth: December 9, 1882 in Seville, Spain
Death: January 14, 1949 in Madrid, Spain
Turina was the son of a painter of Italian descent. He studied piano and theory in his hometown and made his debut there as a pianist at age 14. His success led him to Madrid, where he tried to get his opera La sulamita and his zarzuela Fea y con gracia performed. The latter was staged with no great success, but Turina gradually became well known in artistic circles and his friendship with Manuel de Falla influenced his ideas on the proper character of Spanish music.In 1902 he began to study the piano at the Real Conservatorio Superior de Música with José Tragó. In 1905 Turina moved to Paris, where he studied the piano with Moritz Moszkowski for a time and worked at composition at the Schola Cantorum. During his years in Paris he was encouraged by the great French composers of that time —Debussy, Ravel, Dukas, and his teacher d'Indy — and wrote a few works in the French style. In 1907 Turina appeared as pianist with the Parent Quartet, and they introduced his Piano Quintet Op.1. The work exhibited the influence of Cesar Frank, so Albéniz and Falla encouraged Turina to explore Spanish popular music. Turina accepted this guidance, and several more pieces were well received. Shortly after Turina's graduation from the Schola in 1913, the first major event of his compositional career took place with the première of La procesión del Rocio in Madrid. By the time he returned to Spain with Falla in 1914, he was already recognized as a leading Spanish composer. He conducted for the Ballets Russes and received a prize for his Sinfonía sevillana, introduced triumphantly by Arbós. Turina took a post as choirmaster at the Teatro Real, a position he held until the theater closed in 1925. He continued to be very active in Spain's musical life, serving as pianist of the Quinteto de Madrid, conducting opera and orchestral performances, and writing musical criticism for the newspaper El debate and the periodical Dígame. He also composed two books of Mujeres Españolas for piano, a series of portraits of Spanish women, and La oración del torero (The Bullfighter's Prayer). In 1926 his Piano Trio Op. 35 won the National Music Prize. He was appointed professor of composition at the Madrid Conservatory in 1930. He and his family suffered a certain amount of persecution by the Republicans during the Spanish Civil War, but Turina was able to carry on with his musical activities both during and after the war.He was elected to the Academia de Bellas Artes de San Fernando, and appointed Comisario General de la Música in 1941. Turina received a national tribute and finally the Grand Cross of Alfonso the Wise. He died after a long and painful struggle with cancer.
December 16
Ludwig van Beethoven
Birth: December 16, 1770 in Bonn, Germany
Death: March 26, 1827 in Vienna, Austria
It is difficult to overstate the revolutionary impact that Beethoven had on every musical form in which he worked. A virtuoso pianist, he transported the piano sonata from the private drawing room to the public concert hall. His song cycle An die ferne Geliebte became the model for similar cycles by all the subsequent Romantic song composers. In the string quartet, Beethoven expanded the form to a vastly increase technical and expressive demands. Above all, through Beethoven the symphony emerged as the centerpiece of a composer's creative output. He was the first to use 'motto themes' as a consistent formal device. His slow movements displayed expressiveness that his predecessors had never approached. He transformed the minuet into the tempestuous scherzo. He enlarged the coda from a traditional conclusion to a dramatic, even ecstatic, climax. Beethoven received his early training from his father and other local musicians. As a teenager, he earned some money as an organist and assistant to his teacher, Christian Gottlob Neefe. Beethoven's father was a Court Singer in Bonn, but was an alcoholic and Ludwig was granted half of his father's salary as court musician from the Electorate of Cologne in order to care for his two younger brothers. Beethoven played viola in various orchestras, becoming friends with other players such as Reicha, Simrock, and Ries, and began taking on composition commissions. As a member of the court chapel orchestra, he was able to travel and meet members of the nobility, one of whom, Count Ferdinand Waldstein, would become a great friend and patron to him. His early fame was entirely that of a virtuoso improviser at the keyboard.In 1792, Haydn invited Beethoven to study with him in Vienna. Apart from occasional visits to the countryside Beethoven would spend the rest of his life in Vienna. A short time later, Beethovenwent to study theory with Schenk and then to Albrechtsberger and Salieri. In 1794, he began his career in earnest as a pianist and composer, taking advantage whenever he could of the patronage of others. His piano trios were published in 1795and had immediate success. However, his personal eccentricities and unpredictability were to grow, chiefly because of his discovery in 1798that he was going deaf. It was not until 1819that conversation with him was possible only by writing in a notebook, but in the intervening 20 years his affliction steadily worsened. Perhaps this is also why he never married, though he loved several women, in particular, the still unidentified 'Immortal Beloved.' Though his growing despondency intensified his antisocial tendencies, he began to produce a steady stream of ground-breaking masterpieces. His Symphony #3 "Eroica" of 1805 greatly extended the possibilities of symphonic form. It was also significant because it was originally dedicated to Napoleon Bonaparte. Beethoven erased the dedication when he heard that Napoleon had proclaimed himself emperor. In 1805Beethoven's only opera Fidelio, originally called Leonore, was performed. His Symphony #5 was premiered in Vienna in 1808 at a marathon concert that included the Sixth Symphony (Pastoral), the Choral Fantasy, the Fourth Piano Concerto, and parts of the Mass in C. The Seventh and Eighth Symphonies appeared in 1813, and in 1817he began work on his Ninth Symphony, which set a new precedent by including a choral finale. From 1824to 1826he completed the last 5 of his 16 string quartets and the Grosse Fuge.When he died, his funeral at Währing was a national occasion. His grave is now in the Central Friedhof, Vienna.
Zoltan Kodaly
Birth: December 16, 1882 in Kecskemét, Hungary
Death: March 6, 1967 in Budapest, Hungary
Kodály was born into a musical family in which his father played the violin, and his mother the piano. He attended the Nagyszombat Gymnasium where his first orchestral work was played by the school orchestra. In 1900 he entered Budapest University and the Franz Liszt Academy of Music, where his teacher was Hans (János) Koessler, who also taught Bartók and Dohnányi. After his graduation in 1905, he met Bartók and went on the first of many journeys into rural Hungary to record and transcribe authentic folk music. Kodály's debut as a composer came in October 1906 with a successful performance of his orchestral poem Summer Evening at the Academy of Music. Two months later Kodály left Hungary for the first time for a period of study in Berlin and Paris. Upon his return in 1907 he was appointed to the faculty of the Academy, eventually succeeding his teacher Koessler as professor of composition. With the creation of the New Hungarian Music Society in 1911, Kodály firmly established himself alongside Bartók and Dohnányi as a primary influence in Hungary's developing musical culture. Kodály produced a steady stream of music throughout his life. His most famous works are the opera Háry János from 1927 and the orchestral suite from that opera, and the collection of educational works, which have become known as the Kodály method. In 1923, for the 50th anniversary of the unification of Buda and Pest as the capital, he composed Psalmus Hungaricus, which was soon performed throughout Europe and America under leading conductors such as Toscanini, Mengelberg, and Furtwängler. In response to two important commissions, he wrote the Variations on a Hungarian Folk Song "Peacock" for the Amsterdam Concertgebouw Orchestra's 50th anniversary and the Concerto for Orchestra for the 50th anniversary of the Chicago Symphony Orchestra. These were in contrast to the dozens of works for children's voices which occupied him for the last 30 years of his life. In later years he made frequent concert tours during which he appeared as a conductor of his own music, though he never abandoned what he himself considered to be his primary work: the collection and systematization of Hungarian folk music and culture. In the years after the Second World War he was honored by countless academic, musical, and political organizations around the globe. In 1961 he served as president of the International Folk Music Council, and, in 1964, as honorary president of the International Society of Music Educators.
December 30
Reinhold Glière
Birth: December 30, 1874 in Kiev, Ukraine
Death: June 23, 1956 in Moscow, Russia
Gliere was the son of a wind instrument maker and became an accomplished violinist while he was still a child. His father's house was a favorite gathering place for musicians, and Reinhold had a small but critical audience for whom he played some of his earliest attempts at composition. At age 16 he went to the Kiev School of Music for three years and then entered the Moscow Conservatoire to study the violin with Sokolovsky and Hřímalý, harmony with Arensky and Konyus, counterpoint with Taneyev, and composition under Ippolitov-Ivanov. Gliere's earliest works were chiefly chamber music, including a sextet dedicated to Taneyev. His First Symphony and the early Romanzas reveal his ties with the great traditions of Russian musical culture. He graduated with a one-act opera Earth and Heaven, and accepted a teaching post at the Gnessin School of Music in Moscow. It was not long before he produced his Second Symphony, which was dedicated to Koussevitsky, as well as various other orchestral works. His Third Symphony "Ilya Murometz," was dedicated to Glazunov and first published in 1911. This monumental work earned him world-wide fame and in America it became a favorite of Leopold Stokowski. From 1913 to 1920 Gliere was the Director of the Kiev Conservatoire, and then he was invited by the Nationalist Policy of the Soviet Government to make a prolonged study of the folklore and folk music of Azerbaijan, so that he could revive the national music of that republic. He moved to Baku, its capital, and from there visited a large number of the towns and villages there. His efforts culminated in the Azerbaijanian opera, Shah-Senen, which blended Azerbaijanian folk-tunes and Iranian melodies. It was not performed in Moscow until 1938, when it was the centerpiece at the great Festival of Azerbaijanian Art. A similar period of research in Uzbekistan produced the musical drama Gulsara, and some years later the opera Leyli and Medjnum. For the choreographic poem Zaporozhstsy, he drew upon the national music of the Ukraine. Gliere worked predominantly on a grand scale in the large forms (opera, ballet, symphony, symphonic poem). The most important element in his style is the expressive melody. His ballet music is marked by particular sensitivity, color and beauty. The most popular of his ballets are The Red Poppy and The Bronze Horseman. From 1920 to 1941 he was a professor of composition at the Moscow Conservatory. He also taught for a while in Kiev. Prokofiev, Khachaturian, Davidenko, Novikov, Rakov, Lyatoshynsky, and Miaskovsky all studied with him. Besides his creative work, Gliere also appeared frequently as a conductor and pianist.
Dimitri Kabalevsky
Birth: December 30, 1904 in St. Petersburg, Russia
Death: February 16, 1987 in Moscow, Russia
In 1918, Kabalevsky moved with his family to Moscow, where he studied at the Scriabin Music School. At the age of 18, he began to compose, primarily for the piano. His first works for children appeared during these years, written for the pupils he taught while a student. He entered the Moscow Conservatory in 1925, studying piano with Goldenweiser and composition with Miaskovsky, the latter being particularly influential on Kabalevsky's evolving musical outlook. By the end of the 1920s Kabalevsky was gaining notoriety as a composer. In 1928, the premiere of his First Piano Concerto launched him into the forefront of Soviet composers, while the charming Sonatina for piano brought him international acclaim. His Second Symphony achieved considerable success and was conducted by Coates, Gauk, Golovanov, Sargent and Toscanini. During the 1930s Kabalevsky, like Prokofiev and Shostakovich, wrote a great deal of music for the emerging genre of film soundtrack. It was during this decade that Kabalevsky's style was defined. Although Prokofiev served as a model to some extent, Kabalevsky was less adventurous, relying on the use of diatonic tonality and accessible structural contoursinterlaced with chromaticism and major-minor key interplay. He is perhaps best known for the overture to his opera Colas Breugnon which Arturo Toscanini conducted worldwide in the 1940s and 1950s. His suite The Comedians is another well-known work, while the Piano Concerto #2 is among his finest purely musical achievements. A series of concertos for young players – for Violin, for Cello, and the Third Piano Concerto – has greatly enriched the repertoire for student soloists. Kabalevskywas appointed senior lecturer at the Moscow Conservatory in 1932 and was made professor in 1939. During these years he also worked as a music critic. Later he would become an editor for the journal Sovetskaya muzïka and for the publishers Muzgiz. He also worked for the All-Union Radio as a critic. During World War II he wrote his 24 Preludes for piano based on Russian folksong, which he dedicated to Miaskovsky. These, along with the second and third sonatas, were taken up by a few Russian pianists. The appearance of the Fourth Symphony was a significant event; its tense and gloomy elegiac style is greatly at odds with the Kabalevsky of preceding years. This lyrical and dramatic vein continued in the Cello Sonata and the later song cycles. Kabalevsky's Requiem, Op. 72, completed in 1962, is a memorial to those who lost their lives during World War II.The last 20 years of Kabalevsky's life saw a growing estrangement between him and his composer colleagues due to his unyielding rejection of new music. He concentrated instead on developing a program for music in schools, made appearances at concerts and lectures and, like Kodály and Orff before him, actually taught at a school. These experiences resulted in his two books about music for children which appeared in the 1970s and 1980s. Kabalevsky's traditional stance as a composer and his strong sense of civic duty which found expression in his education work endeared him to the Soviet regime. The long list of honors and awards he received – including the Lenin Prize and Hero of Socialist Labor – demonstrate his ability to work as a creative artist in conditions under which many others had great difficulties.Kabalevsky was one of the few well-known Soviet composers who escaped the infamous 1948 condemnation of composers by the Central Committee of the Communist Party. The scapegoats, including Prokofiev, Shostakovich, Khachaturian, and Miaskovsky were censured for indulging in "decadent formalism."