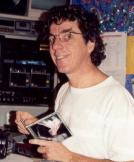 Mixed Grille
Host: Steve Theaker
Fridays, 6:00am - 9:00am
Heading into his seventh broadcast year at WWUH, Steve Theaker is the Friday FM on Toast show host. He delivers a medley of acoustic, edgy, jazzy, swampy, bluesy, rootsy, rockin', protestin' contemporary folk; whisked with a dash of bluegrass, world and reggae music. Add some splashes of 60's rock, Celtic and a few Texas hombres to turn up the heat, and the end result is a program entitled Mixed Grille.
"It's a wonderfully eclectic mix of a little bit of this and a little bit of that," says Wednesday's Caterwaul show host Ed McKeon, a veteran of 20 years of folk radio. Listeners enjoy the upbeat and calming flavor of Steve's banter (even when the subject is serious), the long music sets, and his witty silliness.
So, have a cuppa tea at the Mixed Grille on Fridays and don't forget to use your gall-dang blinkuh! Please?