...5:30 AM on Wednesday, April 28th of 2004, and a crowd was forming around the basement studios of WWUH Radio. Now it's very rare... in fact, virtually impossible... that our studios are deserted at any time of day, but this morning was a particularly busy one.
There were at least six people milling around. Among them, the usual suspects for a Wednesday morning around here. The Tuesday All Night Show host was wrapping things up for her time slot, playing CD's on players that, after her show, would not be used for another twelve hours. Ed McKeon was in the wings, ready to step to the microphone and introduce Julee Glaub, whom he had the privilege of hosting as his live guest on the show that morning.
Less common at that hour were sound engineers Kevin Lynch and Chris Larsen, unspooling wires and hooking up multiple microphones in three of the four studio facilities we have here in the Harry Jack Gray Center. Thursday morning FM on Toast host River City Slim was standing by in anticipation. Short minutes before six, Celtic folk vocalist and instrumentalist Glaub appeared, tired but ready to perform at a time most people are rolling out of bed.
At six o'clock, the microphones went live, and the CD's, mini-discs, cart machines, cassette players and turntables went silent. Then I talked. Then Ed introduced Julee. Then we proceeded to spend twelve hours in the oh-so-fun pressure cooker of completely live broadcasting. IT'S ALL LIVE had begun!
Many of the best creative ideas can seem the most simple. Back in 2003, our director of development Susan Mullis suggested the idea of doing twelve ideas of completely live programming as a special event. As he related on our website, general manager John Ramsey "loved the idea, but at the same time... had some concerns about whether or not we would be able to pull off such a complex event."
He didn't for a second underestimate the talents and energy of our volunteer staff. But while we had produced literally hundreds of live shows over the years, most of them were four-hours long at most. This event would be three times longer, and would tax even a seasoned professional staff.
To be sure, the longest such event we tried before was an epic production for the second "Folk Next Door" concert. From the Wikipedia article on the event: "The 1993 concert was to be an all-day affair, starting outside with a free concert, with an evening paid event. Rain forced the event inside after the third act and threw off the schedule till the concert ended around 2 a.m. The... audience was not entirely awake by the end of the affair, and on the way (they) lost a Chinese brother (a member of the band "7 Chinese Brothers")."
A good portion of the show was broadcast, but with recorded music and announcements filling out any gaps in the show longer than 5 minutes. Ambitious for a community station, yes, but It's All Live would be a bigger challenge still. Without a live audience, but also without the opportunity for "breaks" that could be filled by playing a tape or a disc of any kind. Also, not every act would be as easy to accommodate as one singer songwriter, or a string band with no drum kit or amplified instruments.
I.D.'s, public service announcements and promos all came out of my mouth, leaving introductions of, and interviews with, the talent to the day's regular Wednesday show hosts (Ed, Bob Celmer, Mike DeRosa, Eugene Hazanov and David Buddington) along with guest hosts (also including Steve Theaker, Dean Hildebrandt and Will Mackey). Additionally, all the programming had to fit into the regular programming style that a U-H listener could expect to hear at various times between 6 AM and 6 PM on a Wednesday: 6-9am could only be folk music of various kinds; 9am - 12noon, Jazz; From 1-4pm, programming had to be approved by Eugene Hazanov, fitting his usual Ear Stretcher format; from 4-6pm, it had to be live classical performances.
Of course, there was a good deal of co-operation from the Wednesday show hosts and their genre peers, in order to make room in that time to better showcase other musical ideas and approaches featured on other shows on the station.
Ed's show began with vocalist Julee Glaub (as noted before), then featured local singer/ songwriter favorite Kate Callahan. Then, River City Slim and the Zydeco Hogs became the first "big" act of the day, with the full band occupying our largest studio in the rear of our space, and making sure that none of us needed coffee to wake up at 7am. Folk Next Door favorites, "The Roadbirds" featuring Patrick McGinley and Jim Mercik were next, delivering a typically tasty acoustic set. Then, rounding out FM on Toast were Nerissa & Katryna Nields, who are regional folk legends by now with a decent worldwide following (of course, WWUH had something to do with that, as far back as 1992). Kevin Lynch, Jim Christensen, and Steve Theaker co-anchored the show.
Bob Celmer's show began somewhat atypically, with a set by the "New Farmington River Royal Ragtime Ramblers", a Dixieland five piece. He followed that by hosting some student ensembles, one of which featured near-future WWUH host Pete LeBlanc on sax. The show ended with a set by singer Emma Walker with bassist Dezron Douglas.
Mike DeRosa hosted an hour of live, in-studio public affairs next with in-studio guests.
Eugene's Ear Stretcher began with a set from burgeoning young singer/ songwriter Sonya Kitchell and her Band, in a set that left quite an impression on us, a full year before her debut on the NYC label, Velour Recordings (her latest release is 2006's "Words Came Back to Me").
Kevin Lamkins came in to host local rockers The Ders. The middle of the show featured a set, hosted by Geetanjali host Monica, featuring Stan Scott, an associate professor at Southern Connecticut State University and exponent of the Indian drone instrument the tanpura, a sort of fretless sitar.
Next, I had the pleasure of hosting local duo, and great people, "The Sawtelles", Peter and Julie Riccio whose small duo (with tint drum kit in tow) rocked the main studio. But the loudest was yet to come. Rock mavens now know the band "3" pretty well. Lead vocalist and guitarist Joey Eppard is related to drummer Joshua Eppard of the slightly better known Coheed and Cambria. Joey led his four piece through a loud, rocking full hour of noise that, literally, knocked stuff off of the studio walls. It was awesome.
We also had to commit to an otherwise "normal" programming day. At or near the top of every hour, we had to broadcast our call letters and the origin of our radio signal ("WWUH, West Hartford"). We also had to read an average of two public service announcements an hour.
Actually, reading all that stuff was my job. It was fun being the Don Pardo to the station's SNL for 12 hours, but it also required me to put together carefully worded copy for all the Public Service spots, and, well, to do something special with those breaks, if possible. Toward that end, I went shopping for items with which to make interesting, if not strictly musical noises: a ticking mechanical alarm clock; a train whistle; a light bulb... Yes, a light bulb.
My partners in crime in arranging some of these noises were Kevin Lynch and Chris Larsen. I had discussed doing a parody of the Memorex "Is it live or is it Memorex" spots, which usually involved the breaking of a wine glass, seemingly through the fidelity of a recording of a human voice hitting a high note. Now, I couldn't break glass with my voice, and the rules of the day said we couldn't use a recording of any kind, even if we could find one that we could engineer to shatter a wine glass without cracking the windows of our studios. Also, we couldn't get anyone to volunteer a wine glass. We could, however break a light bulb. Carefully. The light bulb was chosen because it would make a loud enough shattering sound, and could be thrown with some accuracy at a hard target, like a cinderblock.
In order to achieve this in studio, we had to lay down a large tarp in our largest studio, and to find a handy cinderblock that was sitting in the back of the Harry Jack Gray Center, near the dumpster. Next, I had to be decked out with safety glasses and a long sleeved shirt and microphones had to be situated to best capture the breaking glass sound. [see photo below]
Of course, we also had to set up my announcing mike, since I would be reading my top of the hour announcements immediately following the stunt.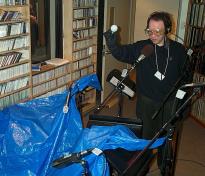 Click photo for the bigger mess -- can you feel the excitement?

That was particularly fun, but what happened during Evening Classics got downright uncanny. First, David Buddington hosted the string duo, Alturas Duo performed. Faculty members from Hartt School, Carlos Boltes and Scott Hill performed on guitar, violin and the charango, a mandolin-like instrument with a small hollow body and a long wide eight stringed neck. Now here comes the weird part. Now former Friday Classics host Will Mackey hosted a segment with Pamela Siskin and Natasha Ulyanovsky (currently and respectively Cantor and Musical Director/ Organist for Congergation Beth Israel in West Hartford). Natasha played a piano on this occasion. They were to perform a piece which I have sadly forgotten the name of, but they were in need of a sound that was present in the orchestration, but had not been arranged for. Strangely, that sound was to be made by an entirely appropriate and unplanned for train whistle which I had picked up at a music shop the Sunday before, with no real idea of how I could use it.
The twelve hours ended with more classical performances from Katie Lansdale and, finally, the Judy Handler and Mark Levesque Duo. The twelve hours ended at 6:00pm as Dave Buddington played the first CD heard since early the previous morning.
The hours were chock full of great music, loud, live and soulful, live talk, shattering light bulbs and events as close to serendipity as a meticulously planned radio program can get. We launched a second It's All Live, which I was unable to attend. Now, however, I understand we have another one being arranged for Thursday, September 20.
At this writing, we are still arranging details. I and my Culture Dogs co-host Sam Hatch are scheduled to do yapping of some kind during the event. I'll try to go shopping for materials for creating live Foley sounds in the meantime, and, with any luck, I'll get to enjoy a lot of great live music and rock out and accidentally make some music of my own. And break stuff.
Peace, Kevin.
see accompanying promo: It's All Live!