The Tradition Continues...
Coach Jennifer Rizzotti has built the University of Hartford women's basketball program into one of the nation's up-and-coming programs. This remarkable story will continue to unfold in November and WWUH will be there to capture all the action live.
Hartford has appeared in postseason play four of the past six years. The Hawks reached the round of 32 in the 2006 NCAA Tournament, and, last season, won games in both the preseason and postseason Women's NIT. The program has recorded consecutive 25-win seasons while continuously upgrading its schedule to include an increasing number of teams from power conferences.
The year ahead will see the Hawks face the likes of Kansas, Michigan State, BYU, Connecticut, Providence, and 2007 NCAA Tournament upstart Marist. The team will also participate in Hawaii's Rainbow Wahine Classic over Thanksgiving weekend, part of a field that includes Texas, Kentucky, Minnesota, and Virginia.
Jon Easterbrook '87, '90, a member of WWUH's public affairs department in the 1980s and director of marketing services at the university, returns for his 13th year as the voice of Hartford women's basketball.
He will be joined for the third year by Jesse Ullmann, whose diverse and global broadcasting experiences include covering the 2003 Australian Open tennis tournament in Melbourne and serving as a news correspondent for Radio Works New Zealand.
Click for Full Schedule: Hawks 2007-08 Schedule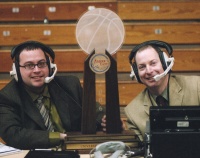 WWUH Program Guide 2007-08 ©