WWUH Broadcasts the 12th Season of Women's Basketball
It was a joyous scene in Trenton, N.J. last March as the University of Hartford women's basketball team defeated Temple for its first-ever NCAA Tournament win. Two nights later the Hawks put a major scare into powerhouse Georgia, tying the game four minutes into the second half before falling.
The Hartford Hawks have put themselves on the national map in women's college basketball and WWUH continues to broadcast all the action around the world. WWUH, for the 12th season, is pleased to present Coach Jen Rizzotti's Hawks live from the opening tip of the season through, hopefully, more NCAA Tournament memories.
Jon Easterbrook, director of marketing services at the University and a member of the WWUH Public Affairs staff in the 1980s, returns for his 12th season of play-by-play. He will be joined for the second season by Jesse Ullmann, whose diverse and global broadcasting experiences include covering the 2003 Australian Open tennis tournament in Melbourne and serving as a news correspondent for Radio Works New Zealand.
November/December Hawks Schedule

Preseason WNIT

Friday, Nov. 10 at Dartmouth, 7 p.m.
If Hartford wins, the Hawks would play either Sunday, Nov. 12 or Monday, Nov. 13 at a place and time to be announced. The remaining rounds are held Nov. 15-19.
Regular Season Broadcast Schedule **
ALL TIMES EASTERN
Friday, Nov. 17 at St. Joseph's (Pa.), 7 p.m.
Sunday, Nov. 19 at Loyola (Md.), 2 p.m.
Friday, Nov. 24 at Manhattan, 2 p.m.
Sunday, Nov. 26 at Columbia, 2 p.m.
Wednesday, Nov. 29 Seton Hall, 7 p.m.
Saturday, Dec. 2 Brigham Young, 2 p.m.
Monday, Dec. 4 at St. John's, 7 p.m.
Wednesday, Dec. 6 Massachusetts, 7 p.m.
Saturday, Dec. 9 at Michigan State, 12 p.m.
Friday, Dec. 22 at Hofstra, 12 p.m.
Friday, Dec. 29, at Connecticut, 7 p.m.
Broadcasts start 10 minutes before the hour with a pre-game show
** See entire schedule at Hawks 2006-07 Schedule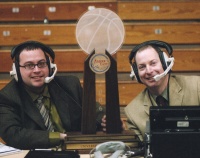 WWUH Program Guide 2006 ©